As the healthcare industry continues to evolve, the trend of repurposing existing retail and commercial buildings into healthcare facilities offers providers a unique opportunity to expand their services and meet the needs of their communities. Vacant, big-box retail spaces, shopping malls, banks and other facilities are being transformed into ambulatory/outpatient facilities across the state of Florida and nationwide, reinventing the healthcare experience.
Many healthcare providers are looking for opportunities not only to expand but to also improve patients' access to care. Many of these long vacant retail spaces are ideal for healthcare facilities as they are often in highly populated areas with good market demographics, have good visibility and have expansive parking. By repurposing and transforming these vacant spaces, providers may be able to serve their patients in a more efficient and consumer friendly manner.
Here, we will explore some of the benefits and essential design considerations to keep in mind when evaluating whether repurposing an existing facility makes sense, both logistically and financially.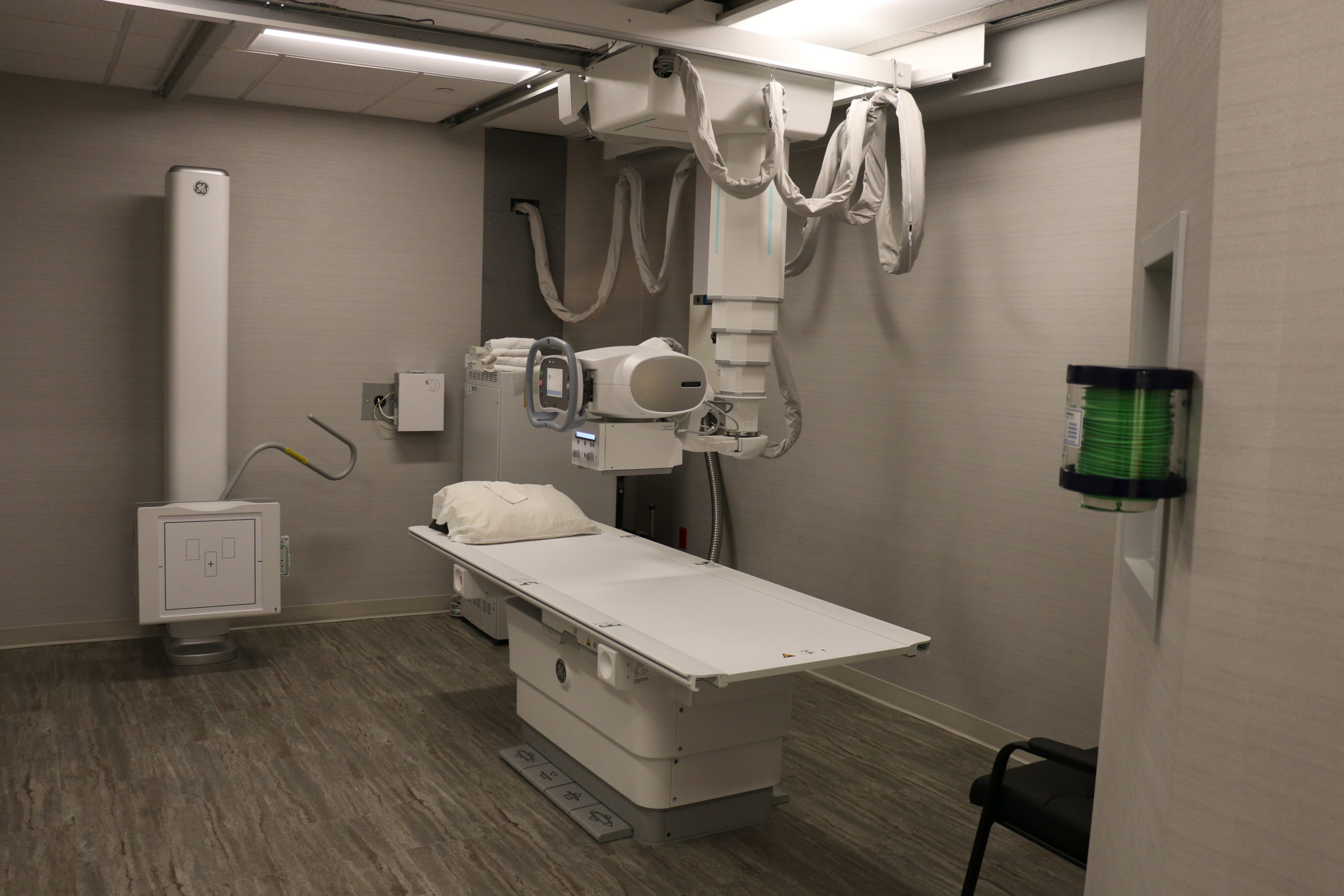 Benefits of Reusing an Existing Space
Big box store(s) in shopping malls can be transformed into as large as 150,000+ SF mega clinics that offer a wide variety of services or smaller size types of outpatient services. According to consulting firm The Advisory Board, outpatient visits increased by 20.4 percent from 2006 to 2016, and outpatient growth is expected to increase by more than 58 percent over the next 10 years. Creating outpatient clinics and mega clinics will allow healthcare providers to meet growing demands for services that are more convenient and closer to home and work.
Location, Visibility + Convenience
Vacant, big-box retail stores and shopping malls have the access and visibility that healthcare providers crave. These retail spaces are typically highly visible from main roads and are located close to residential areas as well as other commercial areas. These locations provide patients with convenient access. Patients like having a one-stop shop, and these ambulatory facilities can offer that. By incorporating multiple departments and services under one roof, patients can receive a variety of treatments or see various physicians without having to travel to several different locations.
Parking
When designing a new healthcare facility, having space to provide adequate parking for patients can be a concern. When mall locations are selected, market research is conducted to determine accessibility and ensure that the shopping center will be accessible for a large portion of the population. These types of retail spaces have a much higher ratio of parking than a typical office building, which is desirable for a healthcare facility. Healthcare facilities require a large amount of parking, but this is also dependent on wait times. Since the COVID-19 pandemic began, many health clinics have managed wait times more efficiently to minimize the number of patients in waiting rooms. In addition to plentiful parking, these retail locations may have space to incorporate drive-thru options for patients, such as drive-thru pharmacy, diabetes testing or lab draws, minimizing a patient's need to go inside a hospital and potentially expose themselves to COVID-19. Drive thru's can help play an important role in the management of chronic care conditions.
Case Study
The Lunz Group is currently in the process of transforming an old bank building into an urgent and primary care clinic. The project involves renovating a 2,800 SF one-story space with a prime, downtown location to serve as an urgent/primary care clinic for a small community. The new facility is centrally located, convenient for patients and highly visible. The building will include reception and waiting areas, exam rooms, procedure rooms, nurse stations and more.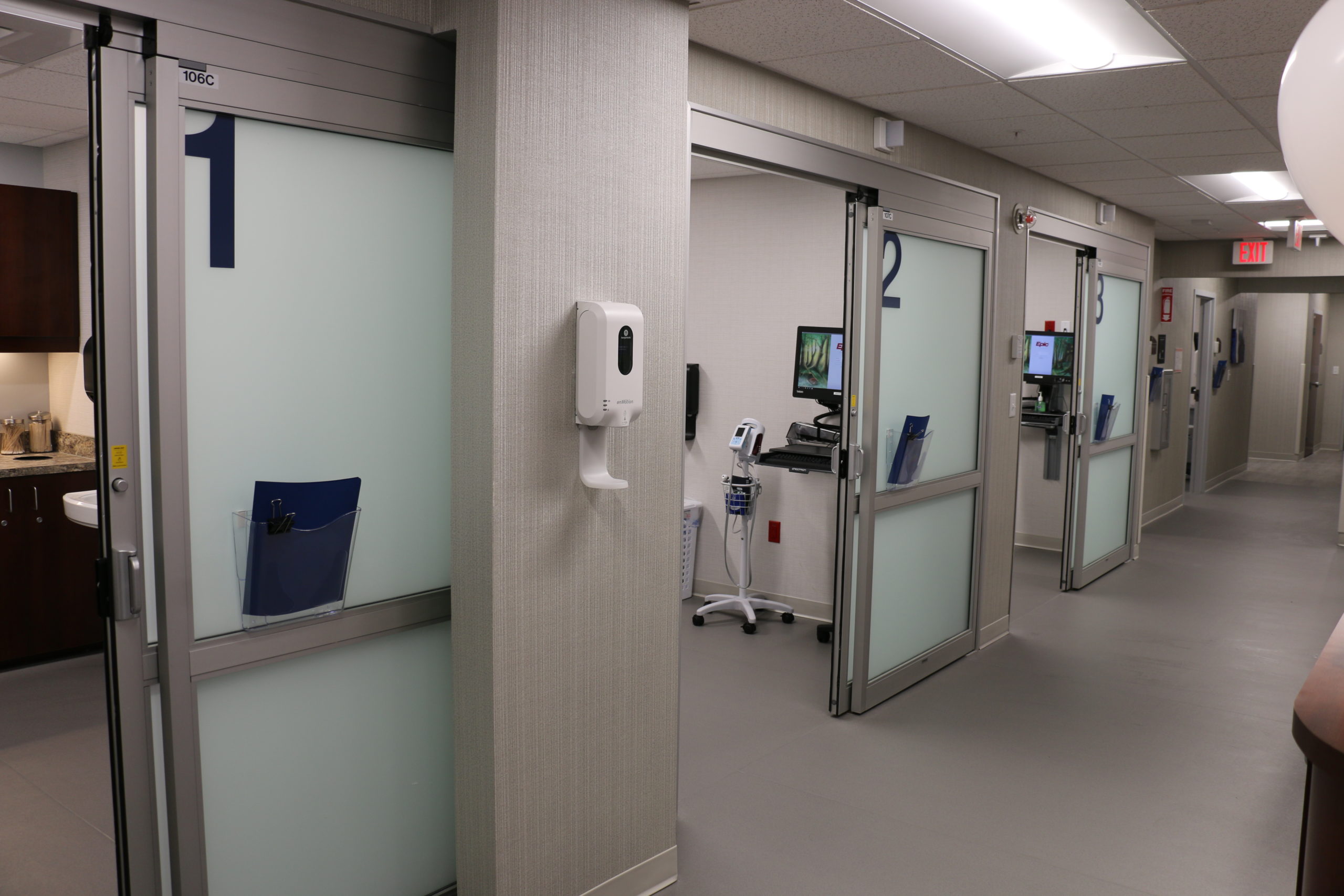 Design Considerations
Feasibility Study
Although repurposing an existing building has many benefits, there are also many risk factors that need to be considered. It is essential that a feasibility study is conducted up-front at the beginning of a project, to determine whether the building can be converted into an efficient space that will meet the client's needs. It is also essential to uncover areas that need to be addressed, to determine whether a building is a good financial investment.
Due diligence and an initial building assessment are needed to determine what needs to be done to make the building functional and financially feasible. Aspects of the building need to be considered including HVAC, structural components, electrical, plumbing, roofing and insulation. Depending on the age of the building, asbestos may also be a consideration and should be included in due diligence. If a building has been vacant for a number of years, mold can also be an issue and remediation must be done prior to construction.
Structural + MEP Considerations
When determining whether an existing facility is a good fit, structural elements must be evaluated. It is crucial to bring in a structural engineer to see whether the existing structure is capable of supporting weight of additional structures. If the client wants to expand the existing building, the structural engineer needs to verify whether this is feasible as the building may not have been originally designed for vertical expansion or other modifications. The building must also be designed to meet code minimums for structural loading. Medical imaging equipment such as Linear Accelerators and PET/CT are extremely heavy, and if the floor is not properly levied it could cause problems.
Mechanical, electrical and plumbing systems also need to be considered. In retail spaces, A/C is typically routed out and there is no mechanical duct work. HVAC equipment for retail tends to be much simpler than HVAC equipment required for healthcare. Existing equipment may be old and at the end of its life cycle. Adding HVAC equipment may also require foundation modifications. Plumbing systems are another important consideration. In many retail spaces, plumbing is usually located in one location. In a healthcare facility, providers will want a sink incorporated into every exam room and accessible restrooms located throughout the facility. Swapping plumbing may require the floor to be cut and trenched in multiple locations, which can be a costly expense.
Ceiling Height + Columns
Ceilings in retail buildings or shopping malls tend to be much higher than ceilings in medical facilities. Retail facilities can also have a large number of columns that can make transforming the space more difficult. To address excessive ceiling height, the ceiling can be dropped and space between the ceiling and roof can be used for mechanical systems. If the ceiling is not dropped, tall partitions may be added to separate spaces, but maintaining patient privacy and HIPPA regulations must be considered.
Patient Experience + Site Improvements
From a planning perspective, the patient experience must be considered. Malls are typically designed so that there is a street, parking (separating the building from the street) and then the building itself. When a mall or big-box retail location is transformed into a clinic, the interior may be renovated, but if the exterior remains the same, patients will still feel as if they are going to a mall rather than their doctor. The use of the facility may have changed, but patrons may feel the same as they do when they are headed to Walmart. It is essential that this is mitigated from a design perspective, and that site improvements are made to positively impact the perception of the experience for the patient.
Healthcare providers understand the need of a patient-centric experience. Exterior site improvements may change the way of arrival or approach, and a master plan could be completed to show how the site can be adjusted. This may include alterations to the building's exterior façade, signage, parking, arrival routes, site lighting and landscaping.
Sustainability
When repurposing an existing building, it is important to take the building's age into account and look for ways to make the existing facility more sustainable. During the design phase, consider long-term costs of maintenance, power, water usage and consumption. When transforming a retail building for healthcare purposes, the existing HVAC system may be aged out and inefficient for the new space. The HVAC system also may not have the amount of air changes per hour per code, and this may need to be adjusted. To increase efficiency and sustainability, plumbing fixtures may be swapped with water conserving fixtures, thermal insulation in the roof and walls may be increased, leakages through the exterior skin may be identified and sealed and more efficient HVAC systems may be incorporated.
The Takeaways
Benefits of Reusing an Existing Space: Repurposing an existing facility can be a
cost-effective solution for healthcare providers to better service their patients.
Design Considerations: When looking to repurpose an existing building, there are a variety of considerations that must be addressed to determine if the project will be cost-effective and meet the needs of the client and their patient population.