Site work continues on Summit Consulting's new, eight-story office building in downtown Lakeland. Located along prominent Lake Mirror, the 135,000 SF Class A office building will house 500 employees.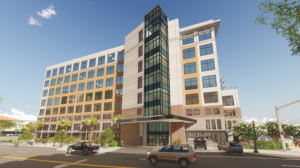 The property has been vacant for decades but will now be home to Summit Consulting's new $50 million headquarters. The building will have integrated parking on the bottom floors, with 150 space available for downtown visitors' use on evenings and weekends.
"Contractors are assembled on-site and are currently working to construct a new water line that will replace the existing line that must be removed before work begins on the project," Jason Willey with the City of Lakeland said. "This work will soon transition into more complicated excavation work as part of prepping for the building's foundation and lower level parking garage."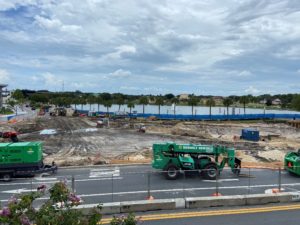 Once the excavation is complete, construction on the actual building will begin. The developer is working with local engineering firm Madrid Engineering to develop a plan to monitor and protect the Lake Mirror  Loggia and Promenade during the construction phase.
The Lunz Group is proud to be working alongside Daniel Corp, Chastain-Skillman, Madrid Engineering and Brasfield & Gorrie on the project, which is expected to be completed in the Fall of 2021.
Click the link here to read more.