Over the past six months, COVID-19 has significantly impacted day-to-day operations in the entertainment & hospitality industry. Recreation facilities, restaurants, hotels and themed entertainment venues have had to limit capacity and work quickly to implement new policies, to ensure guest safety without drastically altering the guest experience. In our previous expert article piece, Entertainment & Hospitality: 2021 Design Trends, we reviewed several design considerations to address in entertainment venues over the next year. Here, we begin to explore how these design strategies can be applied specifically within Themed Entertainment.
Spaces to Consider: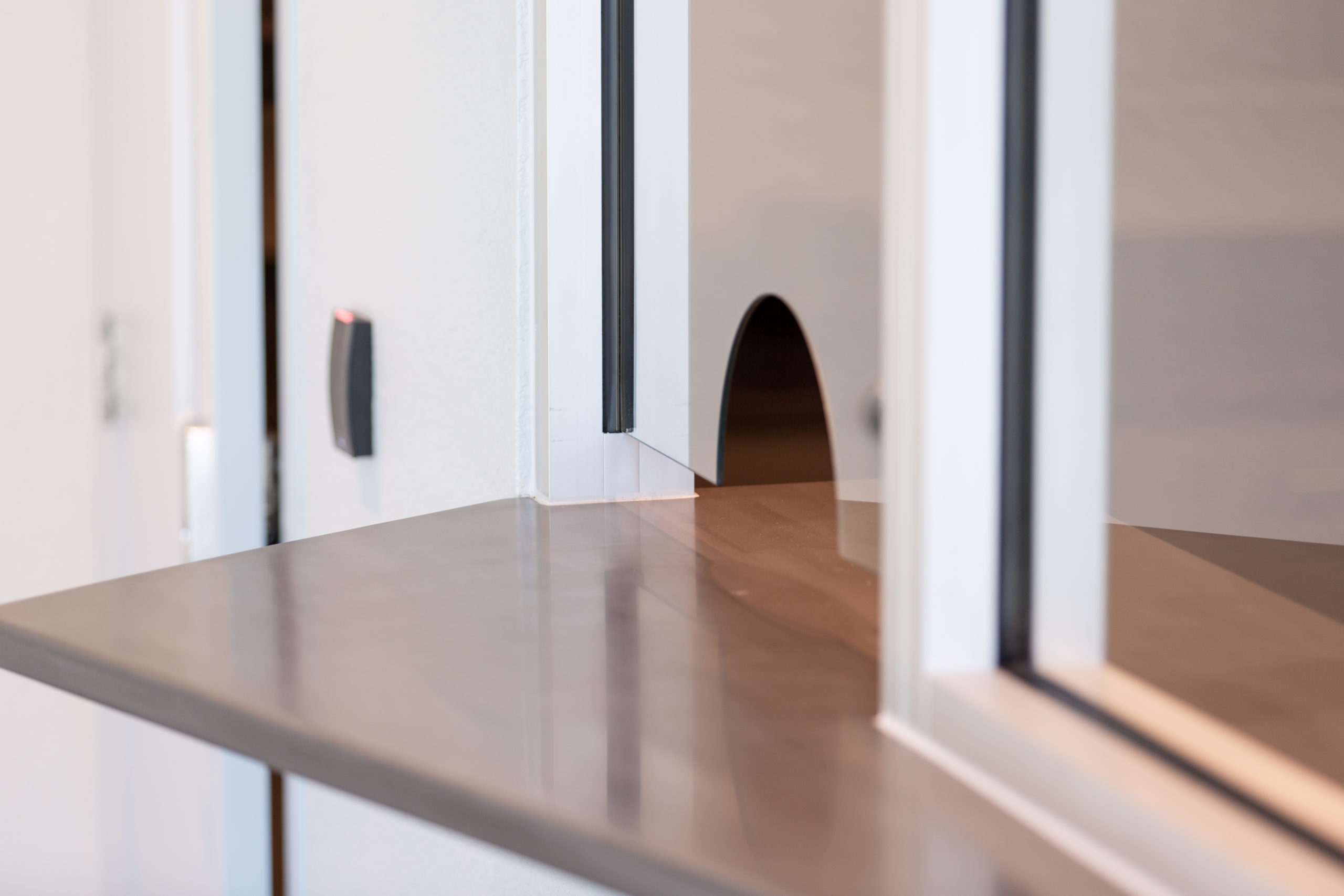 Admission & Entry
Entrance spaces at themed entertainment venues will see a variety of changes moving forward in 2021. At this time, many theme parks have established park capacities that allow for appropriate social distancing. As the number of COVID-19 cases trends downward and parks begin the removal of strict capacity limits, parks should to communicate with employees and guests on how to reduce the spread of germs by incorporating signage around the park to encourage handwashing and overall hygiene. Visitors and employees may be subject to psychological considerations including temperature checks upon entry. In addition to temperature monitoring, signage at entrance points may inform guests on PPE requirements or recommendations.
Ticket Booths + Security Checkpoints
Guests may be encouraged to purchase tickets online to reduce face-to-face transactions. For those that choose to purchase their tickets at the park, ticket booths may incorporate plexiglass barriers to separate staff from guests and provide a safe yet welcoming experience. Floor markers may be added to in high volume areas where lines will form, such as ticket booth areas and entrance gates. Venues should also encourage touch free payment options and arrange credit readers so that customers can swipe their own cards. Theme parks may also increase handwashing and sanitizing stations at park entrances and exits. Credit machines and ATM's should be cleaned frequently, and sanitizing stations should be provided nearby for guests. Parks should also enact effective sanitation processes using effective chemicals for high-touch surfaces such as counters at ticket booths and tables used for personal items at security checkpoints. Secure employee entrances may incorporate touchless entry options using employee ID cards that trigger automated doors when swiped.
Utilizing Technology to Limit Face-to-Face Interactions
Entertainment venues may also see an increase in technology providing access to enter venues and make payments. Some parks utilize all-in-one devices worn around the wrist, much like a bracelet or watch, that allow guests to travel lighter during their trips to the park. These bands may allow guests to unlock the door of their resort hotel rooms, enter theme and water parks, get in line for a ride utilizing a queue system, check in at attraction entrances, charge food/merchandise purchases and more. In 2021, we may see additional, innovative offerings including apps that allow guests to limit cash/card handling and face-to-face interactions with employees.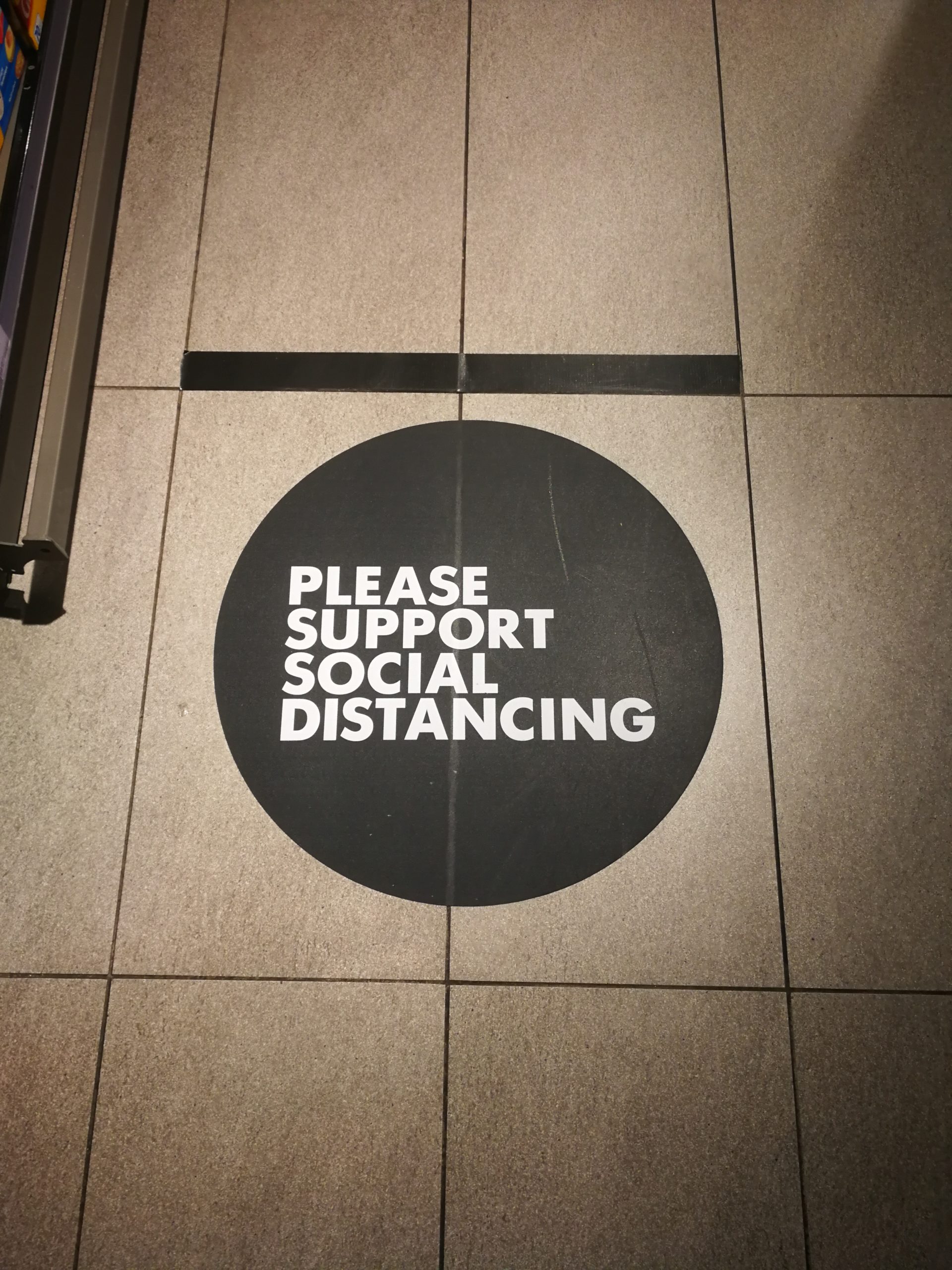 Queue / Lines
Theme parks may also begin utilizing queue systems to manage capacity and provide social distancing for guests. Prior to the COVID-19 pandemic, crowds swarmed ride's entry plazas resulting in long lines. Virtual queues allow guests to virtually "get in line" for a ride in a socially distanced way. Depending on the attraction, customers may be able to use the park's app on their mobile device to get a space in the queue. Parks are also taking advantage of Bluetooth/WiFi technology to track guests' locations within the park to provide social distancing recommendations to their mobile devices automatically. Not only does the virtual queue and location tracking positively impact social distancing, but also provides guests with a more enjoyable experience as they can sit down for a bit to eat or peruse a merchandise store until it's their time to enjoy the attraction. At attraction entrances, signage and floor markers can be incorporated to provide visual representation of six feet or separation, so that guests can maintain social distancing while in line.
Mask Free Zones
As theme parks require guests to mask-up, we are seeing an increase in "relaxation spaces" – designated mask-free zones where employees and guests who are required to use PPE for long periods of time can take a break. These relaxation spaces are typically outside zones, where individuals can remove their masks and take a break in shaded, well-ventilated areas. This trend will be seen most frequently in theme parks where employees and guests may be subject to wearing PPE for long periods of time in warm conditions.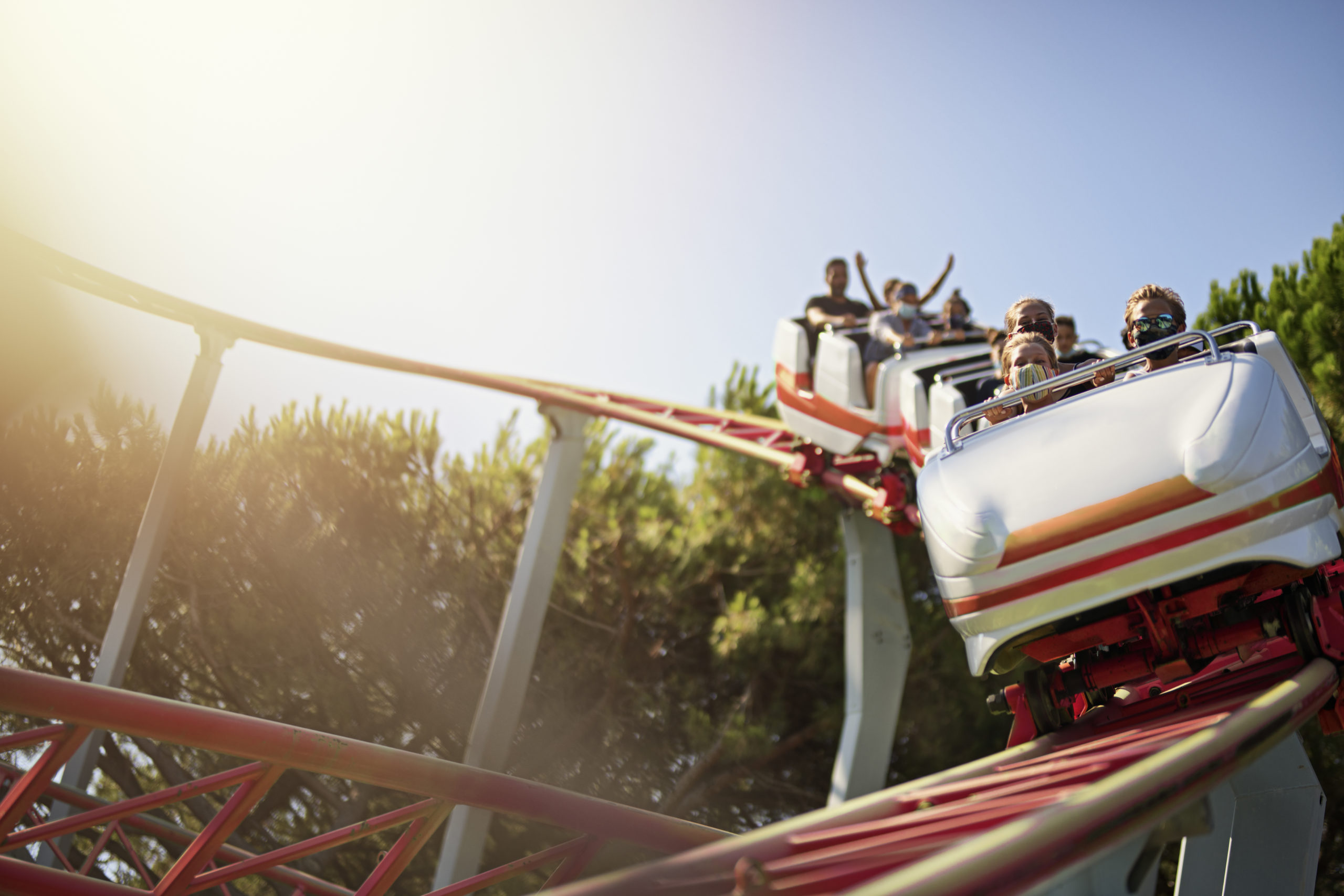 Rides & Attractions
Many theme parks may reduce the number of guests allowed per ride to facilitate physical distancing between riders. For new rides in development and rides being added to theme parks, rows or individual compartments may be spaced further apart to fill rides to 100 percent capacity while still following social distancing guidelines. For existing group rides, family members and groups should be boarded in the same vehicle when possible, and employees should avoid physically assisting guests in/out of a ride. High-touch surfaces on rides including grip bars, harnesses and restraints should be sanitized frequently between guests. Storage areas used for guests' belongings at the ride deck should also be spaced appropriately to prevent crowding as guests board and un-board the ride. These storage spaces should also be sanitized frequently.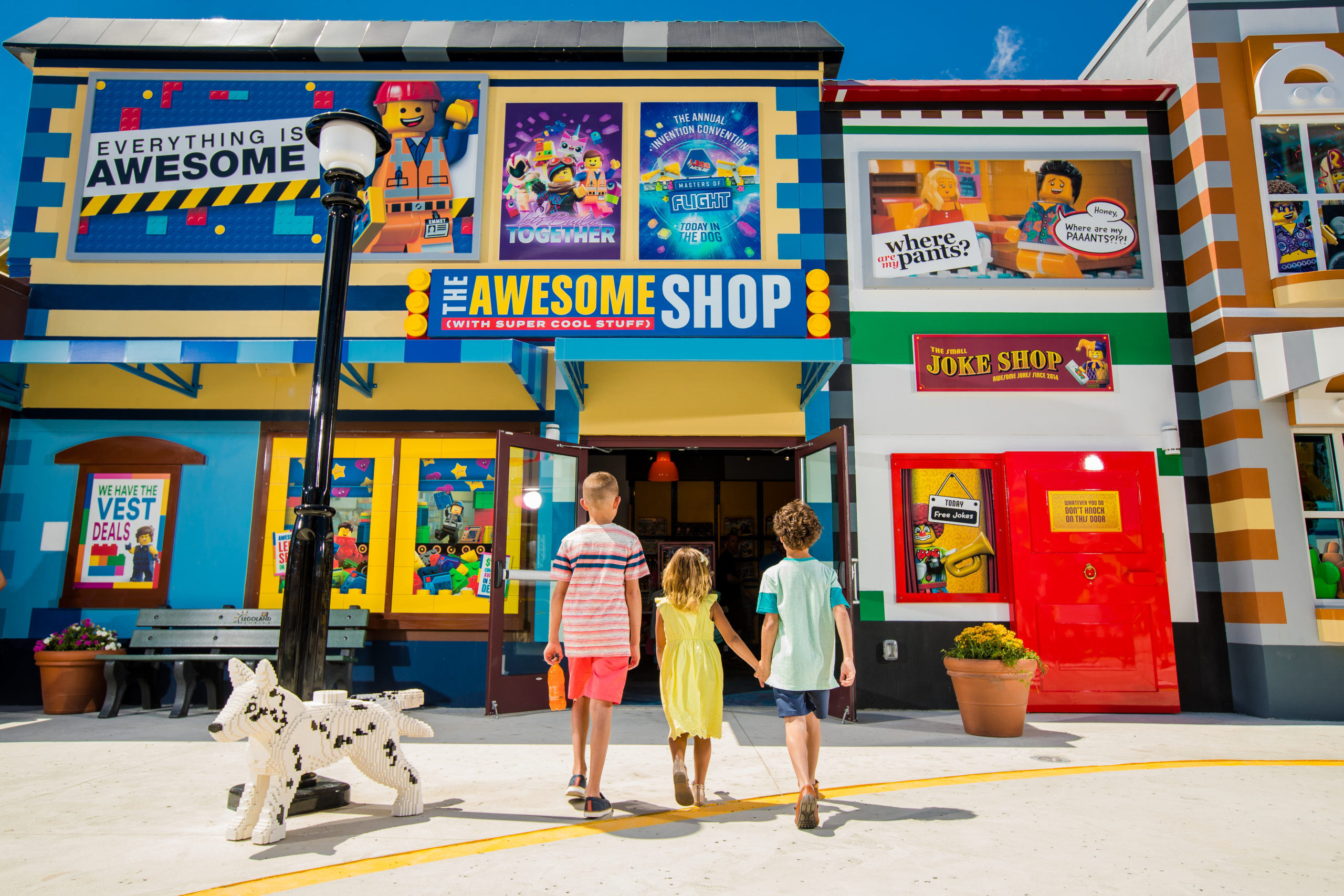 Retail
Merchandise stores within theme parks may see a number of changes in the coming year. Aisles may be widened to allow for additional distancing between guests. Handwashing or sanitizing stations may be placed at retail entrance/exits. Subtle signage may be placed around retail locations educating customers to only touch what they intend to purchase to reduce the spread of germs. Individual check-out stations may be placed further apart, and cashier spaces at checkout counters may be placed further apart, resulting in few check-outs or potentially expanding counters to allow for additional space. Floor markers may be added to provide customers with a visual representation of social distancing in line at checkouts, and physical barriers may be used to separate employees from guests at checkout.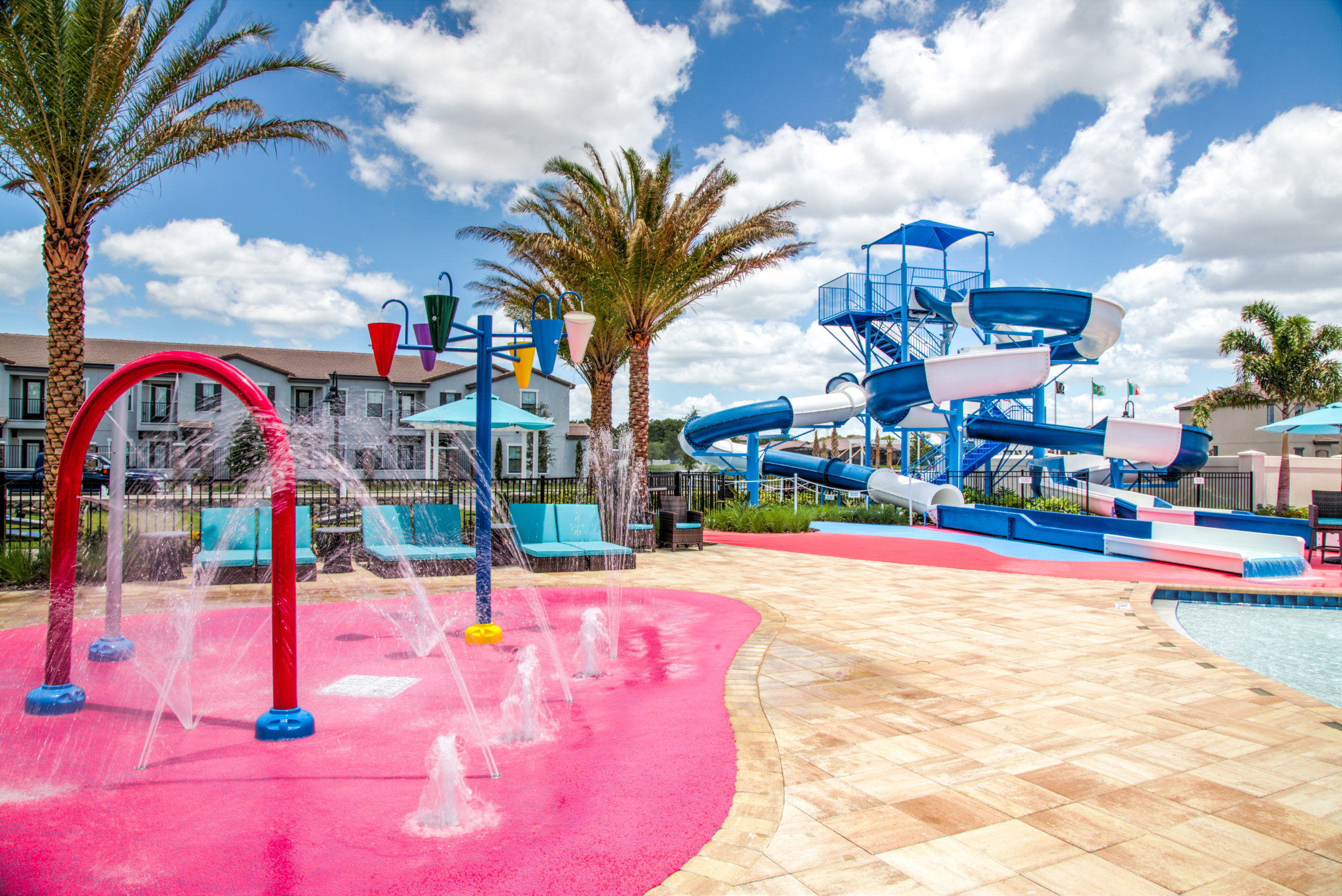 Waterparks 
Similar to theme parks, many waterparks have evaluated total venue capacity to allow for social distancing. Moving forward, waterparks should evaluate locker arrangements in water parks and sanitize between use. These entertainment venues should also evaluate seating and lounging areas and adjust to accommodate distancing. This may include sun-tanning chairs found near wave pools, lazy rivers and outdoor dining spaces. Park layout may be adjusted to allow for chairs to be arranged in clusters so that groups are spaced six feet apart. Waterparks may consider adding restrooms in high-volume areas within the waterpark to allow for additional social distancing between guests utilizing the restrooms/changing rooms. Automated features should be incorporated into restrooms including automatic flush toilets, automated soap disposal, automatic sensor sinks, and automatic paper towel dispensers/hand-drying units. High-touch areas in restrooms such as toilet seats and baby changing stations should be sanitized frequently. Parks may also incorporate hand sanitizing stations near restroom exits. Waterparks may also adjust seating on rides as applicable. Raft rides should only carry member of the same family or group, and hand sanitizer stations should be provided where guests pick up rafts and tubes. Lifeguards should also limit equipment sharing to avoid the spread of germs.
The Takeaways
We have identified six key takeaways that can be implemented now. Some of the most cost-effective design trends we are recommending to our clients include:
Distance: create space for six feet (or 36sf) per person.
Equipment: provide PPE for employees.
Cues: add visual cues throughout the park to promote best practices.
Hygiene: increase sanitation of high-touch surfaces such as lockers, card readers and ride harnesses.
Technology: use technology to supplement your defenses. What types of technology have you already incorporated in your themed entertainment venue? What methods can you continue to explore?