Over the past six months, COVID-19 has significantly impacted day-to-day operations in the entertainment & hospitality industry. Recreation facilities, restaurants, hotels and themed entertainment venues have had to limit capacity and work quickly to implement new policies, to ensure guest safety without drastically altering the guest experience.
When we think of how our everyday life has been impacted by COVID-19, we are well aware that it has affected our ability to visit and experience various entertainment venues including stadiums, theme parks, restaurants, retail, hotels and more. Many of these businesses have worked to develop business plans to gain consumer confidence, addressing everything from operational efficiency to cultural concerns. As the entertainment & hospitality industry continues to persevere and adapt, we expect to see various changes in their facilities over the coming months. Here, we will explore trends that we expect to be incorporated into the design of these facilities over the next year:
Spatial Considerations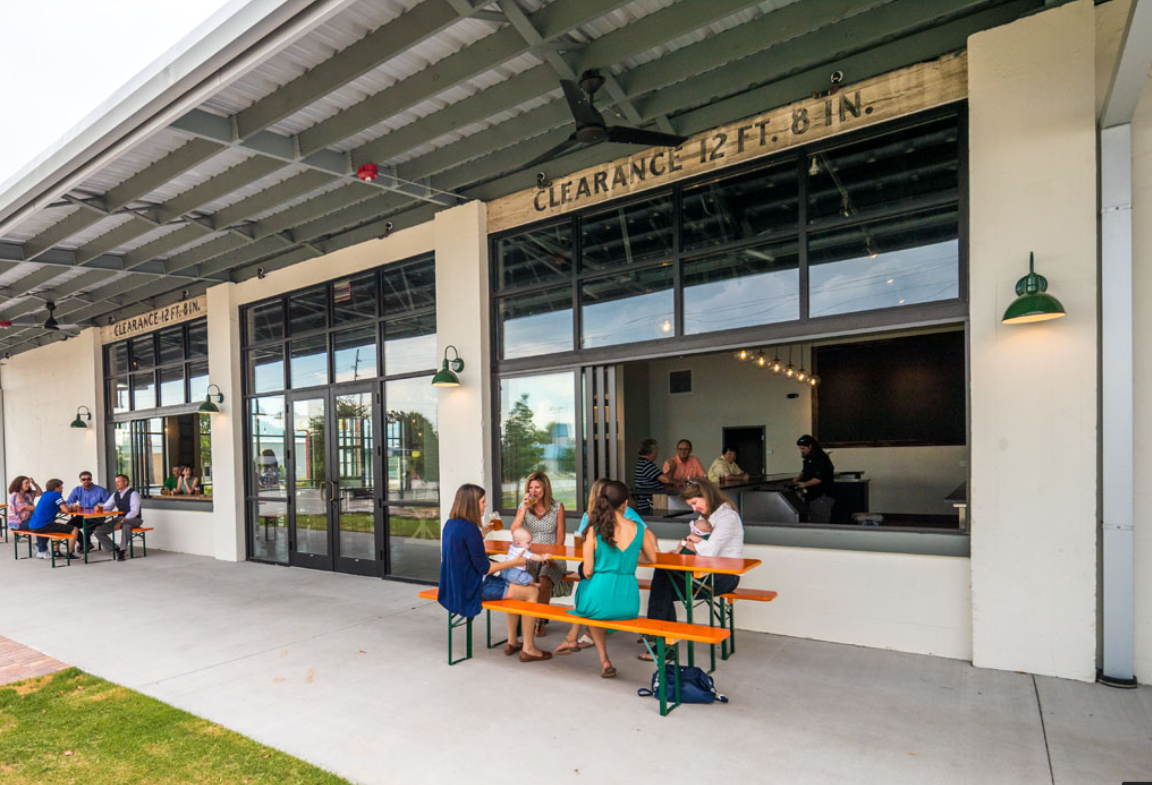 Markers & Signage
The CDC guidelines recommend maintaining a physical distance of six feet of separation to reduce the spread of COVID-19. Strategically utilizing floor and wall markers can help direct guest flow and provide guests with visual markings to maintain proper distancing. Using materials to create markers can easily indicate the six feet of physical distance for a variety of spaces.
Floor markers may be used to separate individuals in line entering at a stadium, waiting to be seated in a restaurant or checking in at a hotel's reception desk. By using something as simple as a tape line, guests can easily recognize the recommended amount of distance. Floor markers may also be used to assist with circulation and the flow of foot traffic by advising of one directional stairwells, hallways and queues.
Wall signage can be used in a similar way to provide employees and guests with a visual representation of six-foot separation. Wall aids can also direct employees to where PPE is located, can advise guests on where PPE may be required and remind guests to sanitize their hands and practice good hygiene. Signage at restaurants may be used to established designated pick-up zones for guests to receive carry-out orders to help maintain distancing.
Seating
Many types of venues in the entertainment industry have adjusted seating options to help maintain six feet of physical separation. Seating that has been shifted to accommodate these requirements includes restaurant and bar seating, stadium seating, seating in hotel/resort lobbies and seating on theme park attractions. Indoor venues may also consider providing guests with additional outdoor seating options. Considerations for spacing may be prioritized in high traffic areas. Furniture types may also be adjusted. Couches and loveseat style seating may be removed and replaced with individual chairs that are properly distanced from one another. Businesses may also opt to select furniture with easily cleanable surfaces and materials.
Payment Options
Entertainment venues should utilize touch-free/contactless payment options when possible to reduce card/cash handling. In addition to utilizing alternative payment options, consider reducing face-to-face purchase transactions when possible by encouraging guests to purchase tickets online. Not only will online ticket purchases minimize payment handling but will also reduce congestion at the venue's entrance. Theme parks may also consider offering all-inclusive packages that combine park admission, parking, food and beverage to reduce the number of transactions. Within theme parks, stadiums and hotels, ATM machines and credit machines should be sanitized frequently to reduce the spread of germs. When guests are purchasing tickets or goods face-to-face, employee/guest interactions should not be prolonged and social conversation should be minimized to limit contact time.
Psychological Considerations
Visual Cues
Entertainment venues should provide guests with visual cues throughout their facilities to promote social distancing and wellness. Many venues such as theme parks and stadiums have implemented health and wellness procedures for employees and guests including temperature monitoring and encouraging facial coverings. Employees who handle cash may be encouraged or required to wear gloves and plexi-glass barriers may provide additional protection by separating the employee and guest. Signage and other visual cues may be used to advise guests on areas where PPE is required and to encourage good health practices such as sanitizing and handwashing. Sanitizing stations and signage may be prominent in particular spaces including key walkways, near concessions, restrooms, at attraction entrances/exits and in merchandise shops. Visible signage will provide guests with reassurance that they have access to materials needed to practice clean hygiene.
Automation
The COVID-19 pandemic has led to an increase in automation throughout the entertainment and hospitality industry. Although automatic doors are commonplace, we will see an increase in automatic interior doors to prevent frequent handling of doorknobs. Venues including theme parks and athletic stadiums may eliminate unnecessary doors to reduce touchpoints. Many facilities may also increase automation in their restroom facilities including automatic flush toilets, automated soap dispensers, sinks and hand-drying.
Reducing contamination risks has become essential within hotels and resorts to provide employees and guests with a safe environment. From mobile room keys to touchless elevators, an increase in automation may provide guests with a more comfortable experience. Technology upgrades may include additional mobile reservation/check-in options, mobile concierge services, mobile access to menus and the use of robots or automated machines to assist with sanitization.
Mask-Free Zones
Another trend starting to pop up is "relaxation space" – designated mask-free safe spaces where employees and guests who are required to use PPE for long periods of time can take a break. These relaxation spaces are typically outside zones, where individuals can remove their masks and take a break in shaded, well-ventilated areas. This trend will be seen most frequently in theme parks where employees and guests may be subject to wearing PPE for long periods of time in warm conditions.
Building Systems Considerations
Security & Circulation
With the spread of COVID-19, many companies have been implementing additional security measures including employee and guest screening upon arrival at facilities. This screening may consist of temperature checks and responding to questions related to common symptoms. Additional security measures may include employee badge swipes, automated doors and limiting touch access through touchless entry.
Circulation within entertainment venues should also be considered. Identify areas that may be impacted, including entrance points, lobby spaces, stairwells and elevators. Consider adding additional entry points to allow for social distancing and efficient entry at theme parks and stadiums where a large volume of guests may arrive at the same time. Assess occupant loads within elevators and provide signage to advise guests on maximum elevator capacities. Hotels and resorts may also consider designating one-way stairwells to allow for adequate social distancing. Consider using markers near park entrances, check-in desks, elevators and attraction rides to provide guests who are waiting with visual cues for separation.
Technology
Although technology use within the entertainment industry was accelerating prior to the COVID-19 pandemic, companies have seen an increase in implementing technology to meet guests' needs. From all encompassing mobile apps to robots, companies are making investments to provide visitors with an unsurpassed guest experience. Robots can easily be integrated into a facility's daily operations to provide increased sanitization. Additionally, robots support social distancing by reducing contact between employees and guests.
Alternate Card Methods
Entertainment venues may see an increase in technology providing access to enter venues and make payments. Many theme parks have adapted all-in-one devices around the wrist that allow guests to travel lighter during their trips to the parks. These devices have many capabilities and allow guests to unlock their resort/hotel room doors, enter theme and water parks, check in at fast pass entrances and charge food/merchandise purchases. These types of wristbands or mobile apps may be utilized by other theme parks and entertainment venues across the country and around the world to limit cash/card handling and face-to-face interactions between guests and employees.
Virtual Queues
Virtual queues are also on the rise at theme park venues. Prior to the COVID-19 pandemic, crowds swarmed ride's entry plazas resulting in long lines. Virtual queues allow guests to virtually "get in line" for a ride in a socially distanced way. Depending on the venue, customers may be able to use the park's app on their mobile devise to get a space in the queue. Parks are also taking advantage of Bluetooth/WiFi technology to track guests' locations within the park to provide social distancing recommendations to their mobile devices automatically.  Not only does the virtual queue and location tracking positively impact social distancing, but also provides guests with a more enjoyable experience as they can sit down for a bit to eat or peruse a merchandise store until it's their time to enjoy the attraction.
Kiosks + Mobile Ordering
Technology has also proven to be a necessity for the restaurant industry during the COVID-19 outbreak and many restaurants are working to implement strategies driven by technology to overcome challenges. Prior to the COVID-19 outbreak, many restaurants and eateries were implementing kiosks and mobile apps to provide customers with self-order/pay systems to increase efficiency and reduce wait times.  As many restaurants begin reopening, some restaurant owners are financially unable to bring back their full staff and are relying on technology to facilitate food orders. Kiosks and mobile ordering apps have also allowed restaurants to reopen while complying with social-distancing mandates. Guests may be able to access outdoor kiosks or order online to place their orders, pay electronically and notify the restaurant when they have arrived without any close physical contact.
Cost/Benefit Analysis of Potential Changes
While today our focus is centered around the ways we can reduce risk, some of the trends we are seeing can be costly in terms of longevity and return on investment. Some trends may be here to stay, while others will fade with some return to normalcy in terms of best design practices.
Some of the most cost-effective design trends we are recommending to our clients:
Distance: create space for six feet (or 36sf) per person
Equipment: provide PPE for employees who may need it
Cues: add visual cues throughout the spaces to promote best practices
Circulation: create one-ways aisles and wider aisle space for separation
Hygiene: increase sanitation of workstations and frequently touched items
Technology: use technology to supplement your defenses. What types of technology have you already incorporated in your entertainment venue? What methods can you continue to explore?