The Lakeland Economic Development Council (LEDC) and The Lunz Group teamed to produce renderings showcasing the potential transformation of downtown Lakeland, by creating permanent or temporary outdoor seating options.
COVID-19 has significantly impacted the restaurant industry, including their ability to serve patrons efficiently and safely. Lakeland City commissioners explored the idea of temporarily closing off downtown blocks, to allow restaurants to offer additional outdoor seating for guests while COVID-19 restrictions are in place. Instead of a temporary solution, the LEDC partnered with The Lunz Group to create renderings for a permanent solution.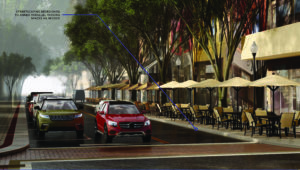 These renderings were produced to help community members visualize what temporary and/or permanent outdoor seating could potentially look like on Kentucky Avenue and Main Street. The concept could also expand to other areas downtown including Tennessee Avenue.
By utilizing the new 824-space Heritage Plaza Parking Garage, parallel street parking spaces could be traded for outdoor seating for the community to enjoy. The City of Lakeland owns 399 parking spaces in the garage and has set aside 30 spaces for daily downtown visitors. However, during evening and weekend hours when restaurants are the busiest, all of the City's 399 spaces can be used by those visiting downtown. Public visitors have the option to pay $1/hour using pay-by-the-plate machines in the garage or through the ParkMobile App.
While the LEDC and The Lunz Group are not making specific recommendations, the renderings were created to help our community members visualize a potential post COVID solution.
Click here to read more.