Lunz team members and young women in our community booted up their computers for an evening-hour virtual presentation. As members signed onto the call, they introduced themselves and greeted one another before the presentation on "Women in Architecture" kicked off.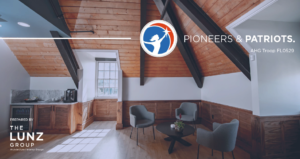 A few weeks prior, Lunz designers Shelley Beitzel and Emily Breheny were approached by an American Heritage Girls (AHG) Troop Leader, to assist her troop members in achieving their Architecture Badge. Many members of the Lunz team worked together to create an interactive, collaborative experience the girls could enjoy from the safety of their own homes.
Designers Shelley Beitzel, Emily Breheny, and Stacy Witschen, Project Manager Nicky Pereda, Marketing Coordinator Sam Zimmermann and Director of Operations Eden Konishi worked to provide an exciting and interactive virtual tour and presentation to cover all topics required for the girls to obtain their badges.
The Zoom presentation included a personalized office tour from Shelley, who recorded from The Lunz Group's Lake Morton Headquarters. Each team member discussed their unique responsibilities, day-to-day work and projects they have recently completed. The firm also introduced the girls to a variety of market sectors and project types, including one of their favorites – LEGOLAND Florida!
"I remember when I was a Girl Scout," Shelley said. "I got so excited about having guest speakers empower us as young girls. It was incredible to be on the other side of that with the AHG and to see them get so excited about architecture!"
AHG is a Christ-centered leadership and character development program. This specific troop, AHG Troop 0529 are Pioneers & Patriots – middle school and high school aged girls. For the Pioneers & Patriots to successfully achieve their Architecture badge, the girls must engage with an architectural firm that addresses a variety of topics, including a tour of the firm, the process of becoming a registered architect, project types, career opportunities and a day in the life.
"Spending the evening talking to the Pioneers & patriots was such a rewarding experience," Emily said. "It was such a joy to share my passion for architecture with them."
The presentation highlighted women in architecture, reviewing a series of famous female architects who have been recognized globally for their design and achievements.
The Lunz team acknowledged women architects in our firm, as 42 percent of our employees are female. TLG also has a woman on the Board of Directors along with a female Studio Director and eight female Project Managers. We welcomed the opportunity to cultivate our community and educate these young women on the architectural industry.