Over the past six months, COVID-19 has significantly impacted day-to-day operations in the entertainment & hospitality industry. Recreation facilities, restaurants, hotels and themed entertainment venues have had to limit capacity and work quickly to implement new policies, to ensure guest safety without drastically altering the guest experience.
In our expert article piece, Entertainment & Hospitality: 2021 Design Trends, we reviewed several design considerations to address in entertainment venues in 2021. Here, we begin to explore how these design strategies can be applied specifically in the hospitality industry.
Spaces to Consider: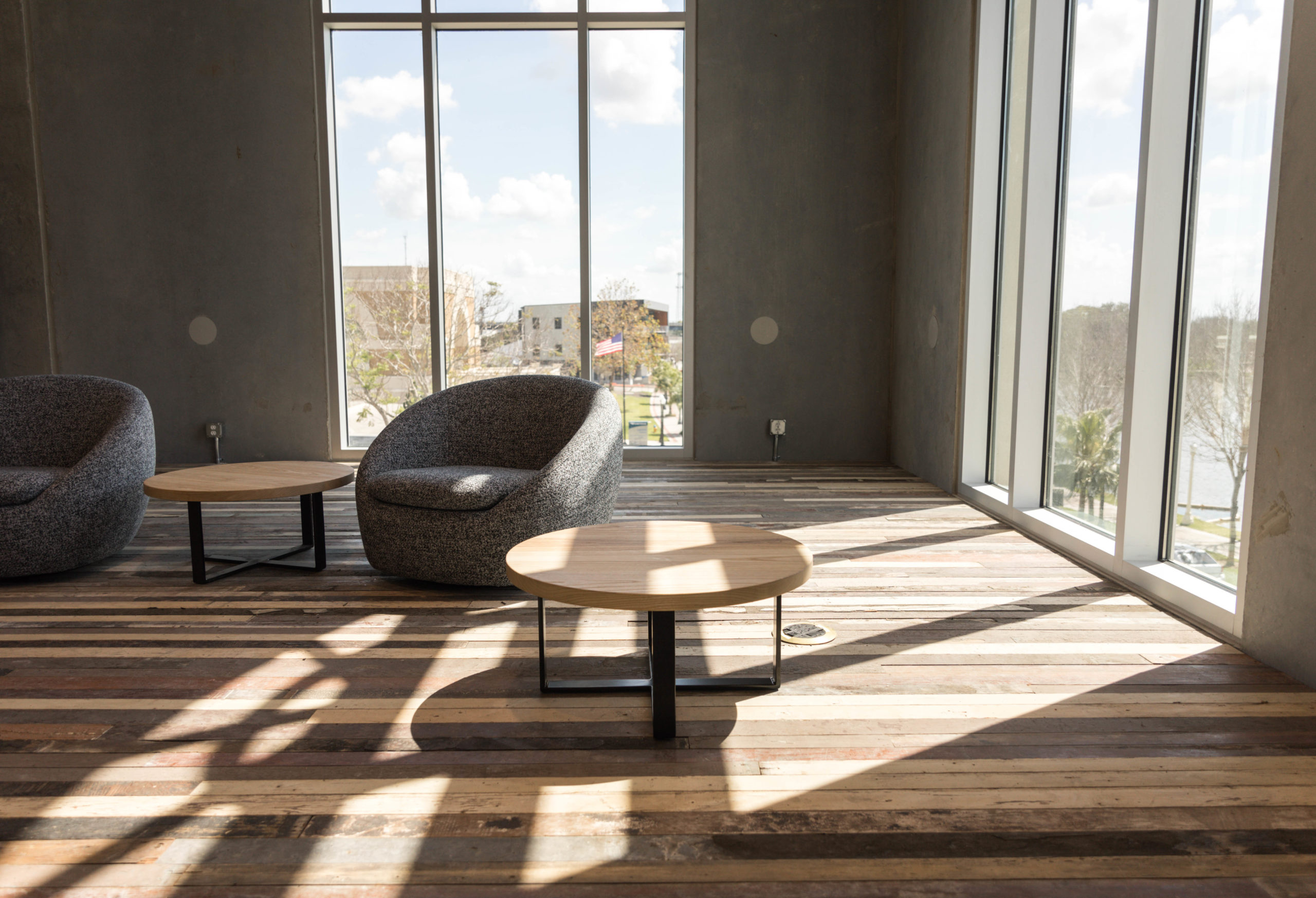 Entrance & Lobby 
As COVID-19 swept across the County, many travel restrictions were imposed and citizens halted or postponed their travel plans. As non-essential travel resumes and continues to rise, we expect hotels to focus on instilling confidence in guests that their facilities are clean and safe. Many companies will also look for ways to minimize contact between guests and staff, and long-term solutions will depend on self-service and automation to transform the guest experience.
Doors + Visual Cues
Many hotel entrances already have automatic doors, but we expect to see hotels adding additional, automated interior doors within their buildings. This may include automating doors leading to stairwells, restrooms and various amenities. Signage affixed to the entrance door or hanging in the lobby may notify guests of PPE requirements or recommendations to follow during their stay. PPE such as face masks may be encouraged for guests when not in their personal hotel rooms. Upon entering, floor or wall markers may be incorporated to ensure guests leave six feet of physical distance between one another when approaching the check-in desk. Floor markers may also be incorporated to help direct circulation and traffic flow upon entry and exit in the lobby.
Check-In Desk + Furniture
Check-in desks may add plexiglass barriers to separate employees from guests and high-touch areas such as counters, card readers and ATM machines should be sanitized frequently. Administrative spaces such as check-in desks and employee offices should be evaluated. Consider adding plexiglass barriers between employee stations to prevent the spread of germs and encourage hygiene measures between employees by providing visual signage. Hotels may consider adjusting lounge furniture to allow for appropriate social distancing. Group seating options such as couches and loveseats may be replaced with individual chairs, and furniture material choices may be based on easily cleanable surfaces.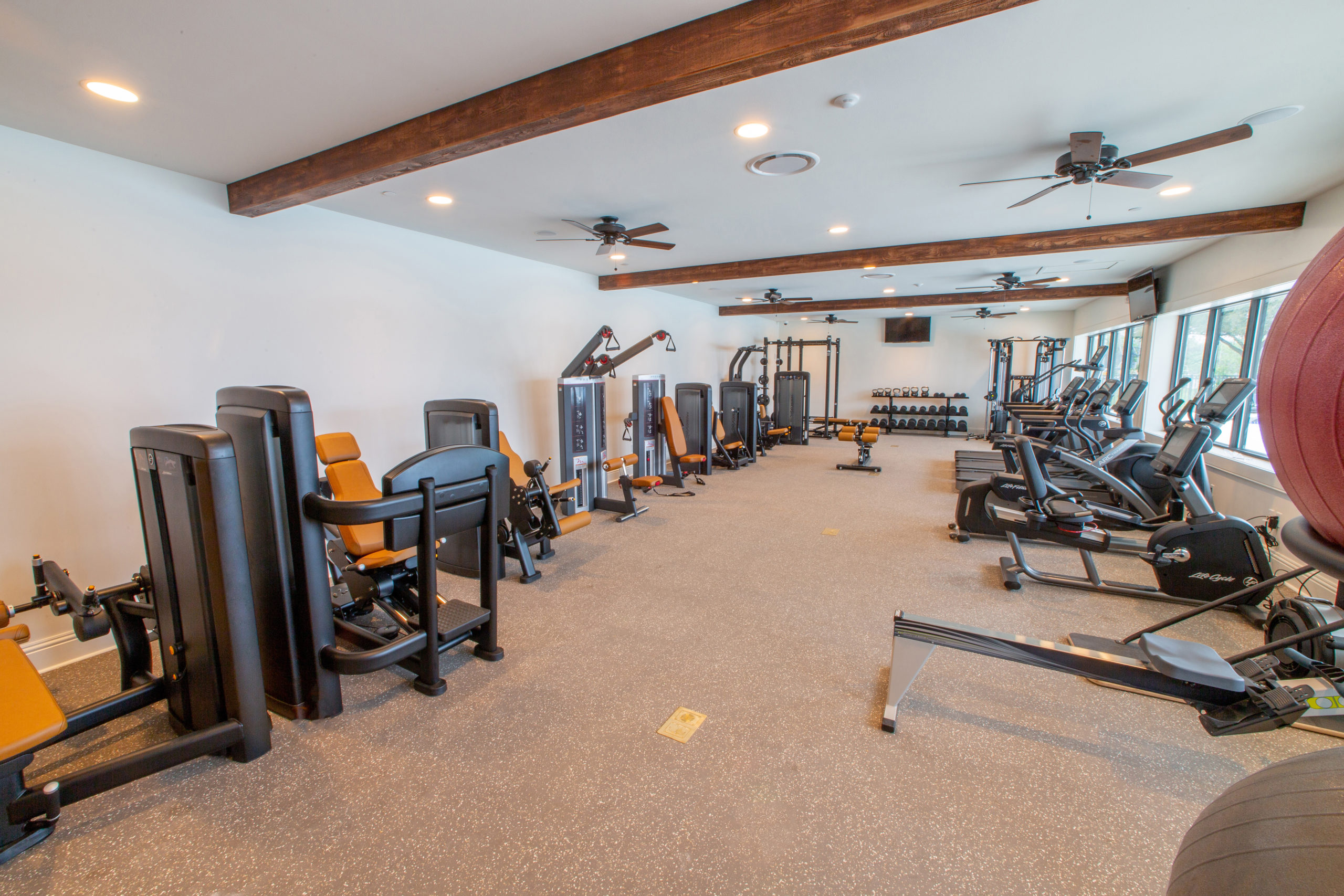 Common Spaces 
Fitness Center
Hotels may rearrange equipment in their fitness centers to provide six feet of distance between each machine. Provide signage reminding guests not to touch their mouth, nose or eyes after handling equipment or frequently touched surfaces. Handwashing and/or sanitizing stations may be added to fitness centers along with sanitizing wipe stations for guests to wipe down their equipment after each use. Consider removing items that are difficult to clean such as bands, rubber mats and bosu balls. Guests may be encouraged to bring their own water bottles and towels. In areas where six feet of distance may not be possible, consider installing cleanable, transparent shields or barriers to physically separate guests on equipment. According to the CDC, fitness facilities should also ensure they are well-ventilated by "working with facilities management to adjust the ventilation so that the maximum amount of fresh air is delivered to occupied spaces while maintaining humidity at 40-60 percent."
Elevators + Stairwells
Hotels may also consider making stairwells one-directional to allow for proper social distancing. For new builds or renovations, additional stairwells and/or elevators may be added to the floor plan. Signage may also be placed outside of elevators to advise of updated elevator capacity required to allow for distancing, and high-touch surfaces such as elevator buttons should be sanitized frequently.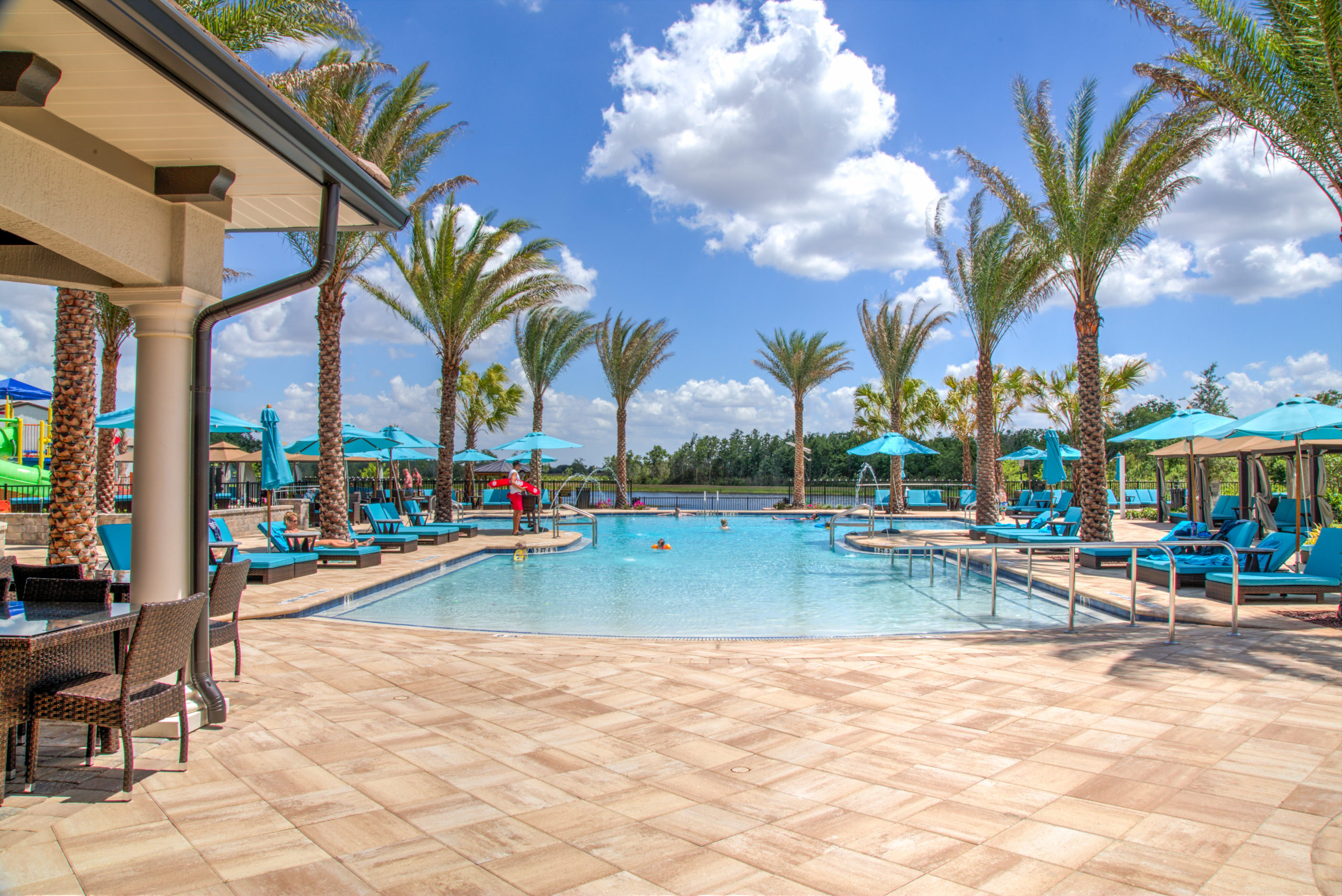 Pools + Saunas
According to the CDC, "there is no evidence that COVID-19 can be spread to humans through the use of recreational waters." Although COVID-19 cannot spread through pools or hot tubs, considerations should be made to allow for social distancing in these spaces. Consider hanging signage to encourage staff, guests and swimmers to wash their hands often and cover their cough/sneezes. Pools may also consider spacing out lounge/pool seating to allow for social distancing between groups. Ensure soap, hand sanitizer, paper towels and no-touch trash cans are readily accessible to support healthy hygiene. High-touch surfaces such as chairs, tabletops, slides or structure for climbing are disinfected frequently. Consider changing deck layouts to ensure that guests can remain six feet apart in seating areas.
Breakfast Bars
Self-serve continental breakfast areas should be evaluated to prevent contamination and spread of germs. Hotels may consider providing individually packaged breakfast items to guests in the morning to eliminate breakfast bar areas, and can turn this space into additional, socially distanced lounge seating. Hotels that provide room service or have restaurants in the facility may consider providing to-go or delivery options only. Hotels that choose to keep continental breakfasts may consider the food items provided, and include only packaged goods such as wrapped muffins, yogurt containers, wrapped breakfast sandwiches etc.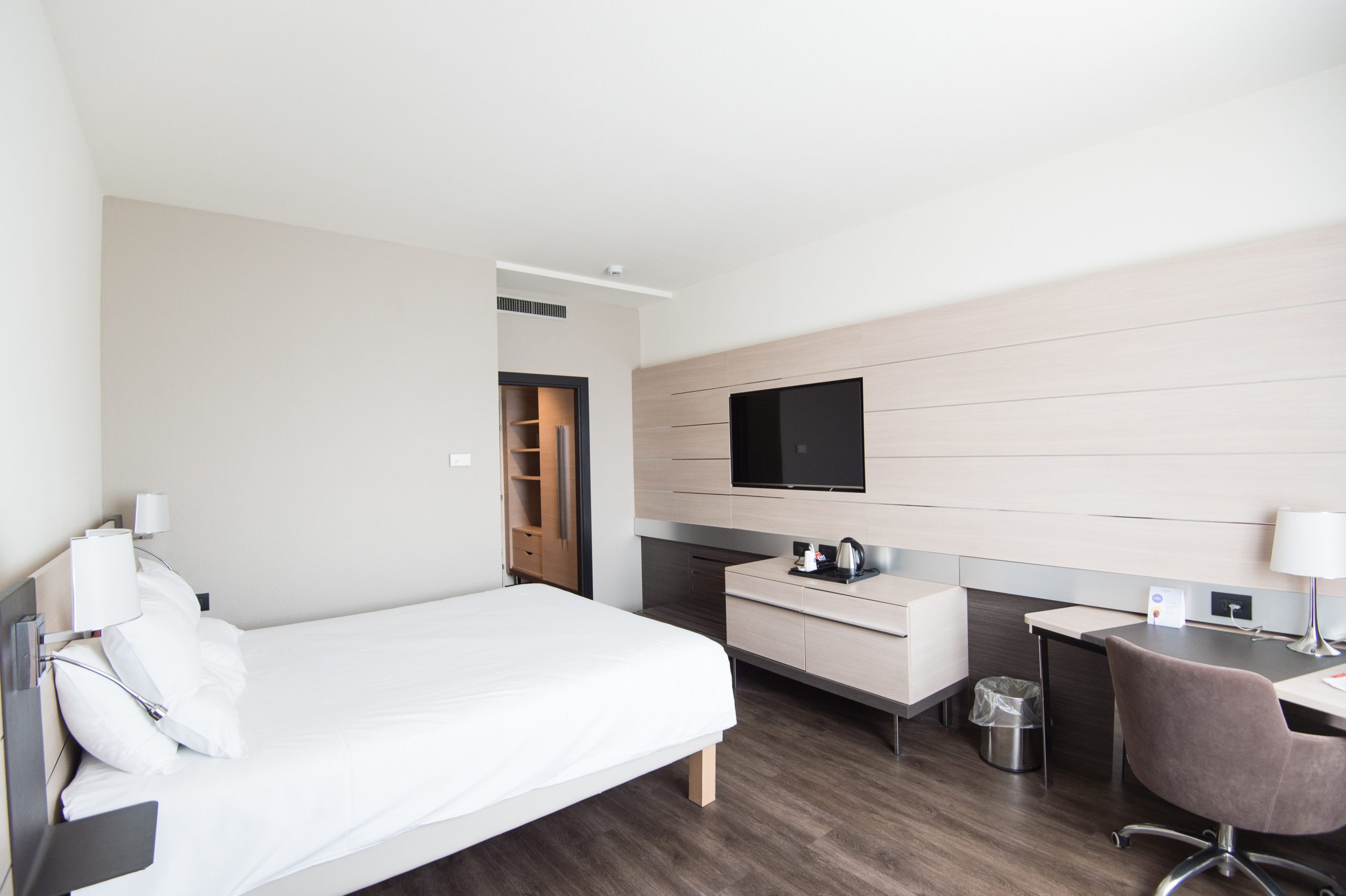 Guests Rooms
Prior to the COVID-19 pandemic, self-check-in was a luxury for high-end, forward thinking hotels. Today, mobile check-in is a necessity. Many hotel chains have implemented touchless technology such as mobile apps or digital keys to enable guests to check in and out of their rooms without face-to-face contact. Contactless technology options are critical in assisting with social distancing and overall hygiene. The Hilton has implemented a digital key option that allows guests to use their smartphones as a room key. Prior to arriving at the hotel, guests can use their mobile device to check-in remotely. Upon arrival at the hotel, they can go straight to their room and unlock the door using their phone. By empowering guests to personalize their travels using a hotel's mobile app, hotels are also able to maximize revenue generated by each guest. Along with mobile check-in options, guests can use their mobile app for a variety of services including room upgrades, early/late check-outs and placing room service orders. Guests can utilize their mobile devices to purchase the exact amenities they desire without having to have an uncomfortable conversation with the front desk attendant. Guest rooms may incorporate additional automated doors, to reduce handling of doorknobs and locks, including doors separating the bedroom from the bathroom in addition to closet doors. Other high-touch surfaces in guestrooms such as light switches may be replaced with automated options.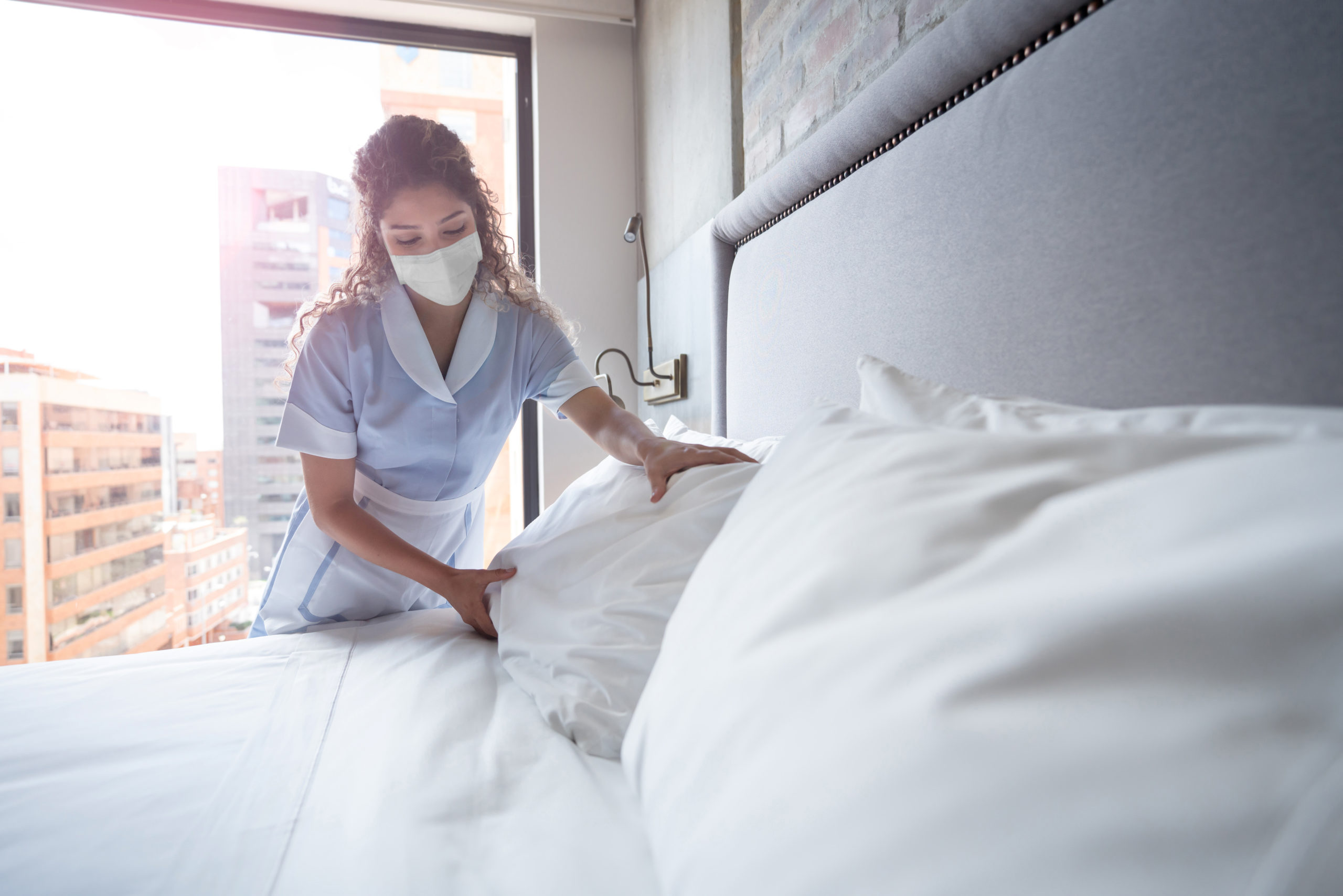 Housekeeping
To minimize risk of contamination among staff members, some hotels are utilizing robots to help sanitize rooms and common areas such as lobbies. According to CB Insights, Xenex Disinfection Services produces robots equipped with pulsed xenon ultraviolet (UV) technology to disinfect facilities and high-touch surfaces. Using alternative automation can transform the management of housekeeping staff. Integrating a mobile PMS (property management system) can provide hotel management with guest occupancy and room status updates instantly so that housekeeping teams can clean rooms more efficiently while also maintaining distance from guests. When cleaning guest rooms, staff should ensure they wash hands before and after exiting guestrooms to protect themselves from germs. All single use items provided such as shampoo bottles or toilet paper should be discarded and replaced for the next guest. Target cleaning and disinfecting toward high touch surfaces including tables, desks, handles, toilets, sinks, etc., and wear disposable gloves when handling used items and trash. Linens should also be washed at the highest temperature possible to eliminate germs.
According to Bloomberg, Hotel Ottilia in Copenhagen was the first hotel to begin using self-disinfecting technology last year. The hotel utilizes ACT CleanCoat technology that is a transparent, odorless substance applied to each hotel room annually and activated by sunlight. The spray "has shown to break down microbes that range from influenza and salmonella to mold spores and allergens." The CleanCoat technology makes the housekeeping process much simpler for staff, as they just vacuum, clean linens and towels and let CleanCoat do the rest. The technology also allows staff to limit contact with guests spaces, reducing the spread of germs between guests and staff.
The Takeaways
We have identified six key takeaways that can be implemented now. Some of the most
cost-effective design trends we are recommending to our clients include:
Distance: create space for six feet of separation in common spaces such as lobbies, fitness centers, pools + saunas and food service spaces.
Equipment: provide PPE for employees including reception staff and housekeeping.
Cues: add visual cues to promote best practices.
Circulation: consider one-directional stairwells to allow for proper distancing.
Hygiene: increase sanitation of frequently touched surfaces.
Technology: use technology to supplement your defenses. What types of technology have you already incorporated in your hotel? What methods can you continue to explore?