In early 2020, the world seemed to shutter. As COVID-19 spread around the globe, Safer-at-Home ordinances were issued to help "flatten the curve." Many workplaces transitioned to remote work if able to, allowing employees to tele-commute from their home office daily through collaborative technology. Now, as our cities begin to reopen and we begin the process of going back to the office, many of our conversations with our clients are focused on helping navigate an upended future in a Post-COVID workspace.
In our previous expert article piece, Design Trends in a Post-COVID Workspace, we reviewed several design considerations and strategies to address a post-COVID world, but how does that start to impact the layout and organization of our spaces? Here, we begin exploring how we could apply these strategies to specific spaces.
Types of Organizational Spaces
Open Offices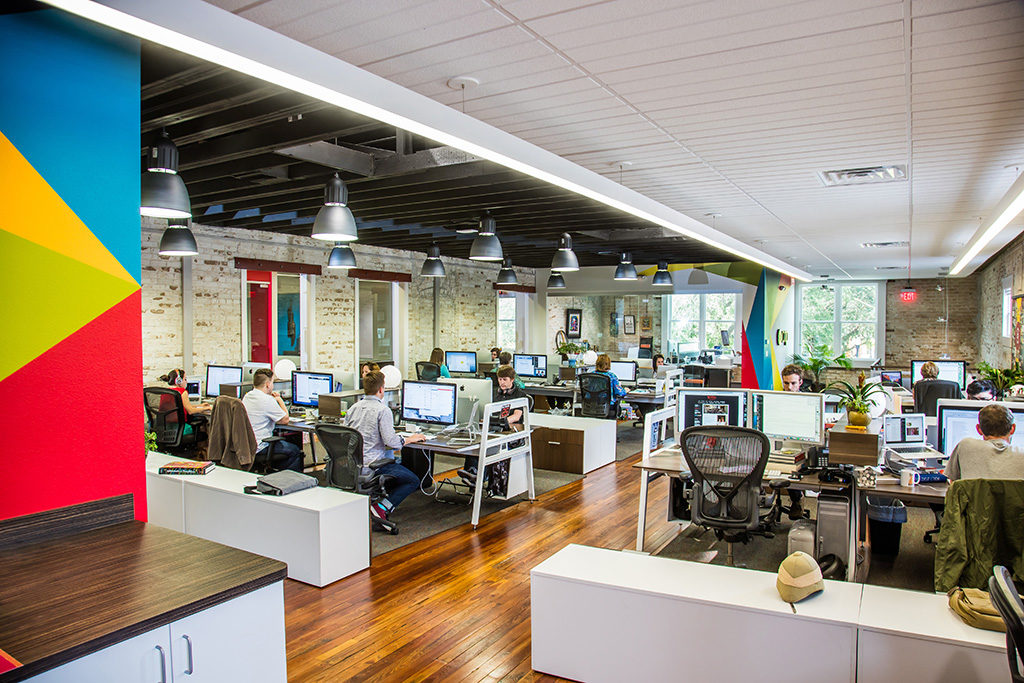 Open offices gained a lot of popularity and momentum as a way of increasing workforce density. The design aimed to encourage more face-to-face interaction. Lately, and even before COVID-19, these layouts were already experiencing a downward trend due to the distractions, noise, privacy concerns and other employee stressors that often accompanied the space. These spaces, providing minimal separation, allow for germs and diseases to easily spread. Despite these negative associations, this style is still highly utilized for the ability to be flexible and create collaboration spaces.
Post-COVID, the space between workstations will increase. The days where one used to be able to sit less than two-feet from another person will no longer be feasible in our current situation. As square footage per person has increased, so has the space allotted for open office workstations. In addition to the added space, physical barriers are being implemented at workstations to decrease contact.
Private Offices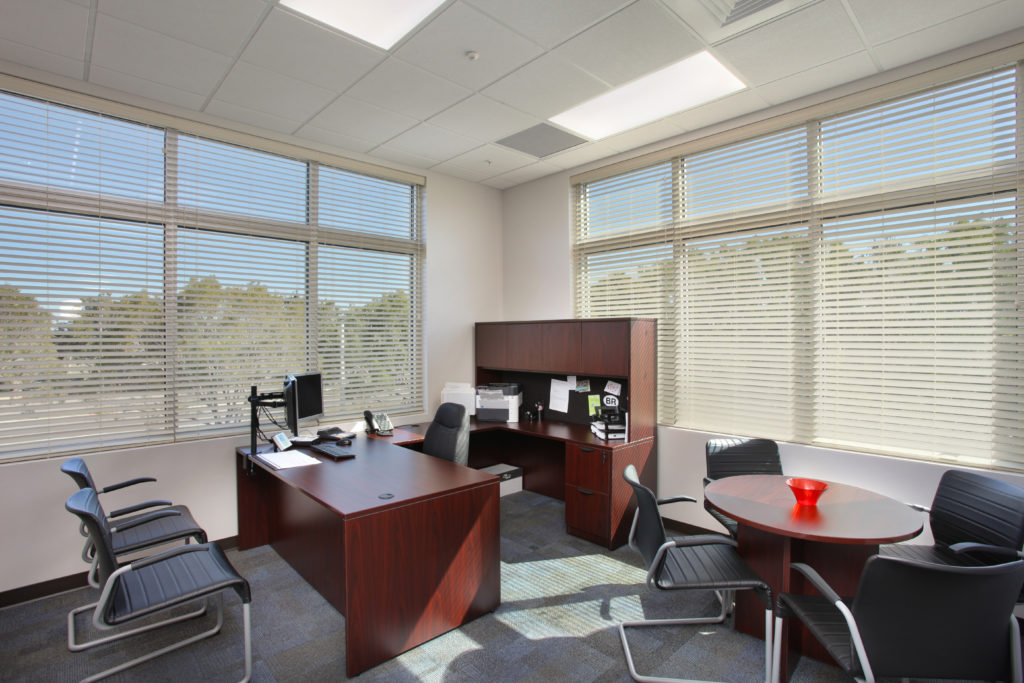 Completely opposite of open offices, private offices consist of primarily closed workspaces for individuals. In some cases, we are seeing an upward trend in providing more private offices. These spaces provide more privacy and security while allowing employees an opportunity for deeper focus and productivity. However, this style is cost-intensive and not quite as flexible should the needs of the company ever shift.
Cubicle Offices
Cubicle offices were introduced in the 1960s as a means of increasing working productivity while still in a semi-open environment. Physical barriers separate coworkers from each other, allowing for deeper focus and less distractions. These barriers also help reduce the spread of germs and particles. While allowing for more privacy, cubicles also may inhibit collaboration and impede a sense of community among work culture.
Yet, cubicles are seeing an upward trend. Now more than ever, there are seemingly unlimited options for today's cubicle, allowing for more modernized and customized styles compared to the boring grey boxes we often associate these with. Cubicles also give employees a sense of personal ownership, creating a home-base kind of feel.
Cubicles are seeing a large increase in accessory options, provide higher translucent partitions, additional storage and greater degrees of enclosure in a post-COVID world. The standard sizes for cubicles (6' x 6' or 6' x 8') have not seen a drastic change in size, if at all. Since these measurements allow employees to maintain the recommended six-feet physical separation from coworkers, it's an option many workspaces are considering.
Neighborhood Offices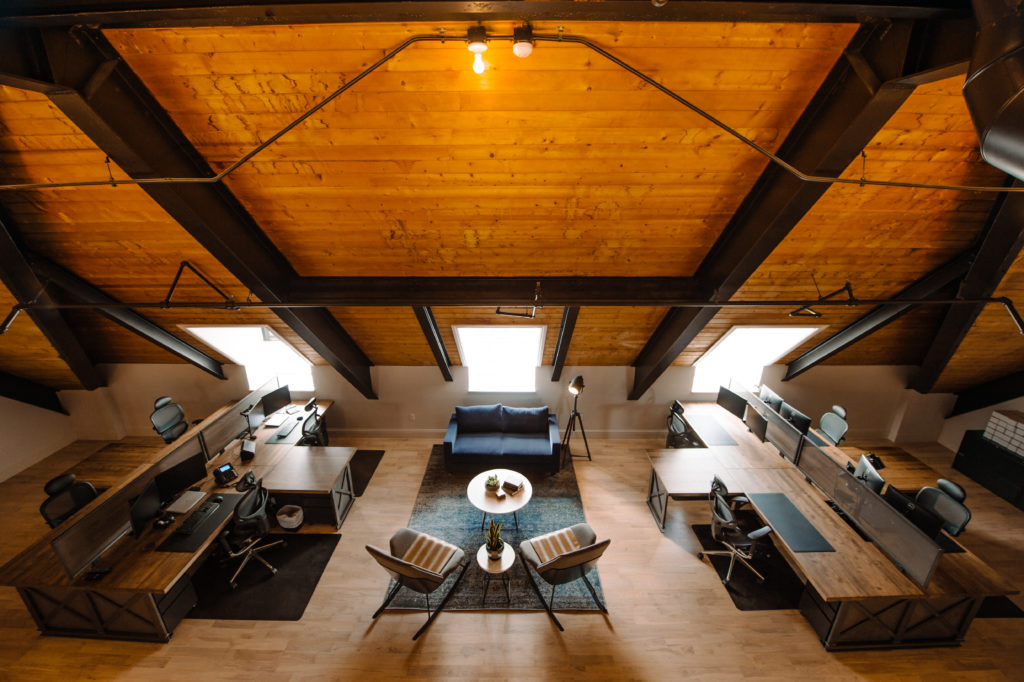 Neighborhood offices are increasing in popularity. A sort of hybrid organization, this style of office is not easily identified spatially. Spaces are organized by groups of people who need to work together. These workspaces consist of a variety of spaces – open, cubicle, office, benching, lounges, cafes, and more – that can be utilized differently to help teams perform different functions. It provides a flexibility in how the spaces are applied, as well as helps encourage bonds between employees and teams through a community mindset feel.
Spaces Within the Office
Within these office spaces, there are spaces that may be common within each that will also require special consideration moving forward:
Training and Flex Spaces
Events held in a room of 10 or more seem like a far-off thought, but spaces should still be designed with these considerations in mind. Training spaces in our current situation will be impacted by physical distance measures when following spatial strategies for seat spacing. Using larger, modular desks easily allows for maintaining six feet of distance, flexibility in the layout, and increased aisle width.
With these measures in place, overall capacity of the space reduces. For example, in a 1200SF room, with a typical classroom layout (or rows of desks), based on pre-COVID measurements we could expect about 60 people to fit comfortably within that space. After spacing the chairs and tables out and accounting for our 36sf/person distance, that count would now reduce to 18, a more than 60 percent reduction of pre-COVID standards. We also explored group training layouts and U-layouts, all which resulted in a 30 to 60 percent reduction in capacity based on post-COVID standards.
In addition, these spaces can be designed to be adaptive and flexible as the need arises. Partitions can be used to enclose or open spaces when needed. Within these spaces though, is still the idea that there will be reduced capacities.
Conference Rooms
We also looked specifically at how conference rooms are changing. Previous standards allowed chairs to be much closer to each other. In a post-COVID world, we could see spaces like these being utilized at or less than half capacity, as users continue to spatially distance ourselves.
To avoid these large spaces staying empty, consider partitioning sections off to create smaller conference rooms. Convert these areas into training rooms, or house employee workstations.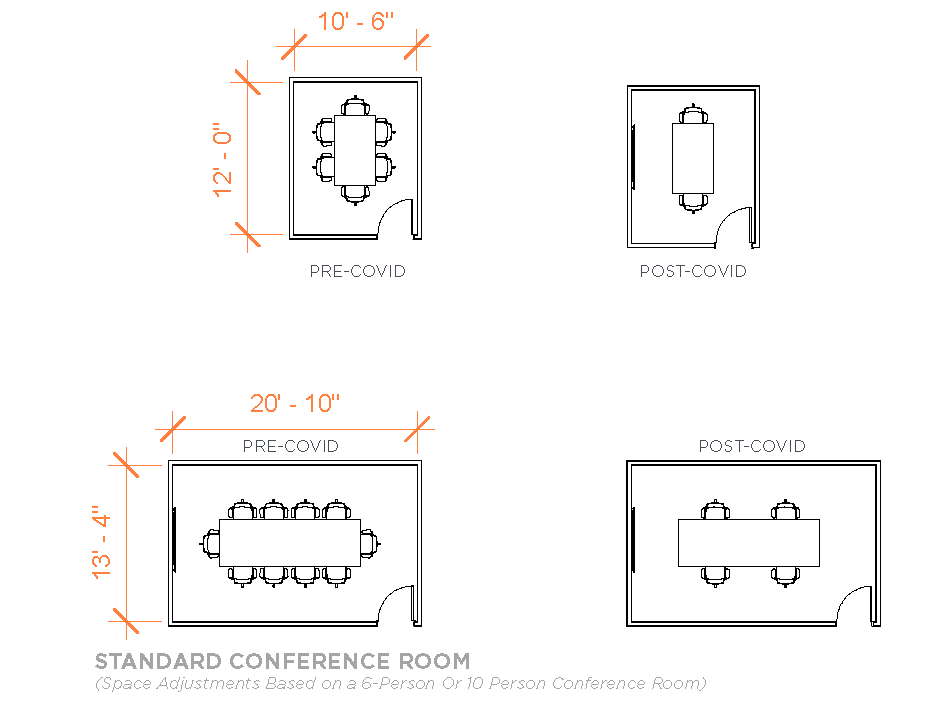 Collaborative Spaces
Collaborative spaces, or your "huddle rooms" are typically already geared towards small group setting, usually from 2-4 people. With the post-COVID 19 strategies, we would start seeing less "group" style furniture and more individual seating as a way to prevent people from sitting too close.
Social Spaces
Social spaces, while we are still social distancing, would change in the arrangement as well. These spaces would typically look more like café, lounge, or booth seating. These would look at ways to "right-size" the groups, again accommodating fewer than 10 people.
Fitness Centers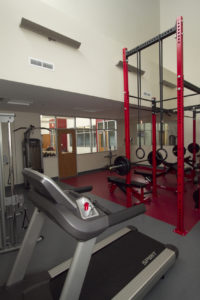 Fitness centers in office buildings have shown positive benefits for employees. As more research shows negative side effects of being sedentary at work, the ability to quickly go to the fitness center and move has its benefits, ranging from reduced turnover rate and increased productivity. Having space for group fitness can also serve as team building activity spaces. Some of the changes within the fitness centers would include increased distance between equipment and machines, plenty of hand washing/sanitizing stations throughout, and encouraging employees to use their own equipment when possible.
---
The Takeaway
To help you sort through the flood of new information daily, we've identified some take aways of useful knowledge and how to apply it to your workspace. Consider these six changes you can make right now:
Distance: create space for six feet (or 36sf) per person
Equipment: provide PPE for employees who may need it
Cues: add visual cues throughout the office spaces to promote best practices
Circulation: create one-ways aisles and wider aisle space for separation
Hygiene: increase sanitation of work stations and frequently touched items
Technology: use technology to supplement your defenses. what types of technology have you already incorporated in your workplace? What methods can you continue to explore?
---
Want to know more?
Check out of first article in the series: Design Trends in a Post-COVID Workspace
For additional information and resources on how you can apply these concepts to your workspace, get in touch with us.