Distribution & Warehousing
Central Florida's connectivity to the rest of the state is what makes it the ideal location for distribution and warehousing facilities. In the 1880's, when the South Florida Railroad came through Polk County, the area held advantages because of its central location. Today, Polk County remains a hotspot for distribution/logistics operations, with more coming.
Greg Ruthven, President and Director of The Ruthvens, has built and leased warehouse space for decades. Our firm is proud to have served this company and its continued growth for more than 20 years. The Ruthvens warehouse at 3150 County Line Road features space for commercial and industrial tenants along Polk County's western border. The 50,000 SF high-end flex space is adaptable and can easily be tailored to specific needs of potential tenants.
"It's perfect for distribution statewide," Ruthven said. "I-95 is close, US 27 is probably 14 minutes away. Lakeland doesn't have the traffic Orlando does – and Tampa's getting to be just as bad as Orlando. It's the No. 1 reason Lakeland is called the Distribution Hub of Florida."
Aviation
Business and government leaders see the value of Polk County's placement and are working to maximize its benefits. Lakeland Linder International Airport is among the state's top 20 busiest airports and has the potential to be a hub for education and industry.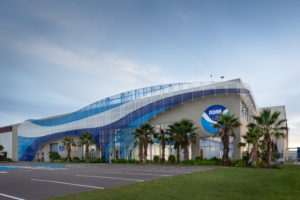 The airport leases out 1.2 million square feet to various organizations, including the NOAA Hurricane Hunters and more than eight public and private businesses. The airport's master plan, currently under FAA review, includes an additional 70 acres that could be used for larger hangars – creating more jobs and values to companies here in Central Florida.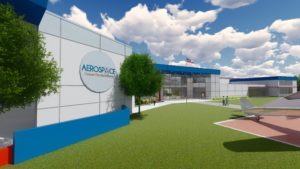 Project Skylab at Lakeland Linder International Airport broke ground this spring and is currently under construction. The Aerospace Center for Excellence (ACE) is a hub for STEM-related aerospace education. The 8,000 SF educational laboratory building includes educational, event and exhibit space, a simulator training lab, a holographic theatre/planetarium and an aerospace resource center. The Lunz Group is proud to be working with ACE to design this state-of-the-art facility.
"This is what differentiates us," Airport Director Gene Conrad said. "These programs don't exist anywhere else."
Workspace
Lakeland and Winter Haven are among Central Florida cities investing in their downtowns, creating spaces where community members can dine, shop and walk. Lakeland Community & Economic Development Director, Nicole Travis, says the focus on expanding the downtown Lakeland core is a serious one.
Projects like Catapult, a project The Lunz Group designed alongside the Lakeland Economic Development Council, are setting the stage for downtown revitalization. Catapult 3.0, Lakeland's new building downtown on prominent Lake Mirror, is a 40,000 SF facility that features lakefront retail spaces, a "maker's space," a commissary kitchen and co-working spaces to suit any style of collaboration. The Catapult facility is geared towards start-ups and entrepreneurs. Catapult 3.0 is wrapping up construction and will be opening later this summer.
"They can grow their businesses at Catapult without initially having to invest in equipment and infrastructure," Executive Director of Catapult Christina Graham said. "One of our goals is that entrepreneurs use this as a starting space and a launching pad – and that they move out, hire and occupy space here in Lakeland."
Click the link to view the article and read about more exciting projects across Polk County.