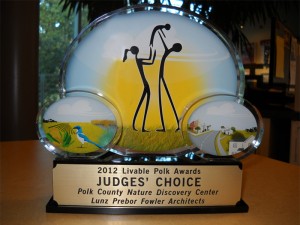 Lunz Prebor Fowler Architects received the highest honor at the Inaugural 2012 Livable Polk Awards: The Judges' Choice. Projects were judged based on conservation development and planning, healthy community design and sustainable development. Additional judging criteria included the preservation and restoration of natural resources, integration and preservation of open spaces, and enhancement of natural areas.
LPF's Polk County Nature Discovery Center was recognized as "the best of the best" and a project that is making Polk County a livable place for generations to come.
The Polk County Nature Discovery Center is located in the center of over 1,200 acres at Circle B Bar Reserve on Lake Hancock. The center was designed as a hub for students and visitors to explore the natural resources and learn about a variety of ecosystems.
Conservation planning was utilized in the development of the buildings and parking areas. Locations were chosen based on the preservation of existing hammocks, open space, proximity to the lakefront and direct connection to existing nature trails. The buildings were designed as an environmental and aesthetic reflection to Florida's historical culture. Using passive techniques from the 'cracker' style construction of Old Florida as a point of departure, the buildings embrace contemporary methods of sustainability. From boardwalks to mechanical systems, modern materials and techniques were employed to further enhance the sustainable qualities of the complex.
The facility opened in 2008 and has also received the 2009 Merit Award for Architecture from the Tampa Bay Chapter of the American Institute of Architects.