Summit has broken ground on its new 135,000 SF Class A office building in downtown Lakeland. Located along prominent Lake Mirror, the new building will serve as Summit's Headquarters and house 500 employees.
More than 100 attendees were present at the groundbreaking ceremony, including Summit co-founders C.C. Dockery and Thomas Petcoff, City of Lakeland Mayor Bill Mutz, City Manager Tony Delgado, other city officials, members of the Lunz design team and various consultants.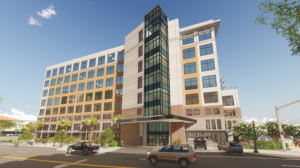 "This is a transformational development project, the likes of which we haven't seen in decades," City Manager Tony Delgado said.
Based in Lakeland, Summit Consulting LLC is a leading provider of workers' compensation insurance coverage. They provide services to businesses across the southeastern United States. The company has approximately 750 employees, and 500 of these employees will relocate to the new Headquarters building.
"With a long-standing commitment to the City of Lakeland, we are excited about the opportunity to create a legacy in the downtown Lakeland community," Summit President and CEO Carol Sipe said. "We believe this project will create significant economic benefits for downtown Lakeland, helping to make it even more successful and vibrant than it already is."
The office building will also include parking with 450 spaces – 150 of which will be available for public use on evenings and weekends.  The Lunz Group is proud to be working with Daniel Corp, Chastain-Skillman and Brasfield & Gorrie on the project, which is expected to be completed in the Fall of 2021.