Recreation
Polk County is a world-class destination for recreation because of its central location and proximity to the Tampa and Orlando markets. The area is home to multiple sports teams, including the Florida Tropics, Detroit Tigers Spring Training, Class-A affiliate team Lakeland Flying Tigers and the Lakeland Magic. Polk County Sports Marketing (PCSM) Senior Economic Development Manager Marc Zimmerman cites $158.4 Million in economic impact from Polk County sporting events in 2019.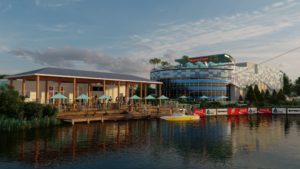 Because of its amenities, location and access to waterfront, central Florida is the Water Ski Capital of the World. Polk County is also home to the USA Water Ski Foundation. They have recently opened an Elite Cable Park at Lake Myrtle, as part of the new USA Water Sports complex that is currently under construction. The Lunz Group worked with USA Water Ski to design a complex that features three championship ski lakes, a waterfront café and pro shop. The facility also includes the newly designed headquarters building which houses the National Governing Body offices of USA Water Ski, the Water Ski Hall of Fame & Museum and the International Water Ski and Wakeboard Hall of Fame.
Parks & Cultural Resources
Polk County is dedicated to providing cultural programming, revitalization and recreation promoting a high quality of life. Cultural tourism across the county is up 30 percent since 2012, and the importance of a strong arts community has been linked as an economic driver. Community members have opportunities to get out and enjoy nature and cultural programming from taking a day trip to the Bok Tower Gardens to visiting the Smithsonian-affiliated Polk Museum of Art.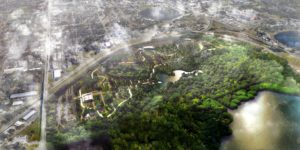 Less than an hour from Orlando and Tampa, Bonnet Springs Park will serve as Central Florida's new place of play. Located in Lakeland, the park will enrich the community through recreation, culture and education while engaging the five senses and encouraging exploration.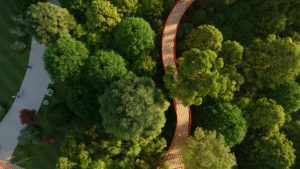 The Lunz Group, alongside Indie Atlantic, Tinsley Creative and leading design firm Sasaki, worked with Bonnet Springs to create a virtual tour of the 160-acre park. The former CSX rail yard is currently being transformed into a revolutionary urban park that will enhance our community for generations to come. The Explorations V Children's Museum will even be relocating to Bonnet Springs to expand its play space and hands-on exhibit space. The new home of Explorations V will provide more than 47,000 SF of science and discovery space, and they anticipate over 118,000 guests each year.
Entertainment
Located 30 miles from Disney World, the city of Winter Haven is perfectly positioned to be a place of play, and the community's accomplishments are racking up. The redesign of Winter Haven's South Central Park wrapped up in 2018 and includes interactive visitor kiosks, bike areas, landscaping and even canine drinking fountains. Dynamic emerging downtowns like Winter Haven's are creating a surge in tourism, drawing guests from nearby Orlando to the area.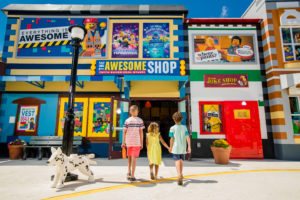 Winter Haven is home to LEGOLAND® Florida Resort's 150-acre theme park in Winter Haven. LEGOLAND® Florida's newest land, THE LEGO® MOVIE™ World, features several iconic features through themed building facades, rides, restaurants and more. Guests can join the "Battle of Bricksburg," where riders work to spray down invading DUPLO® invaders to save the city. Attractions include UniKitty's Drop Tower, Emmet's Flying Couch theatre (a 4D movie experience), character meet-and-greets, play areas and more. The Lunz Group is proud to be a part of the Merlin Magic Making design team.
Click the link to view the article and read about more exciting projects across Polk County.