Grindley Williams Engineering Office
The Lunz Group worked with Grindley-Williams Engineering (GWE) to transform an existing 10,400 SF space into a new, mid-century modern workspace with a progressive structural and industrial twist. GWE sought a larger workspace to expand their services and accommodate additional employees with a branding experience that represents their structural services.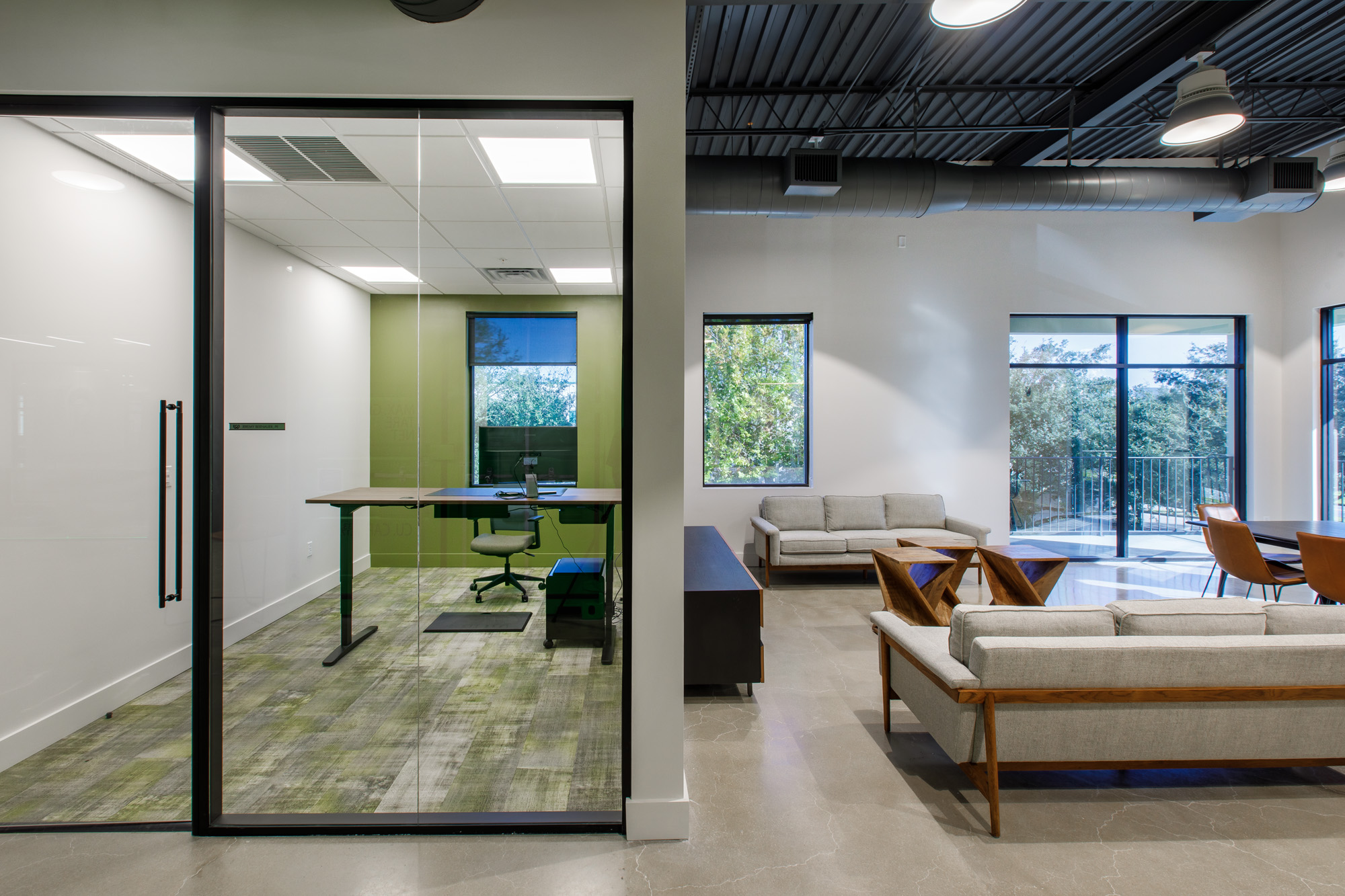 GWE desired a state-of-the-art office space that featured glass walls, container space, a central conference room, functional kitchen and resimercial (residential + commercial) aesthetic and function. The Lunz team worked through space planning to attain the client's overall vision for the project. Throughout the process, the project evolved and was revised to include different items such as furniture and finishing materials.
​
The building's interior spaces range from industrial to contemporary with white veined concrete floors and open-ceiling ductwork throughout. Upon entering the space, employees and clients are greeted by a welcoming reception desk space with halo lighting fixtures and lounge furniture. Beyond the reception space is a glass encased conference space with thin, sliding glass doors with industrial black hardware. Within the conference space, a long custom wood table can accommodate up to 14 people with additional raised bench sitting at the back of the space. Presentations can be viewed on the mounted television screen at the front of the conference room, above a long counter with built in mini fridge for beverages.
Beyond the reception space and glass encased conference room is an open office style workspace with height adjustable standing desks. A print station is centrally located for employees to utilize printers/scanners and access supplies kept in cupboards hidden from view. Lining the perimeter of the space are private offices with forward facing glass walls and doors. The private offices also feature large windows that let natural lighting into the space.
On the building's end opposite of the open workspace, additional private offices, a shipping container and kitchen/lounge space can be found. The Lunz team worked with Robert Berganza on interior design and attaining the shipping container. Painted green to match Grindley-Williams' logo, the shipping container's roof was removed and replaced with wooden slats to provide an open-air feel. Within the shipping container is a television and stand-up meeting table custom designed for the space by Berganza, making it the perfect space to meet and talk through a project.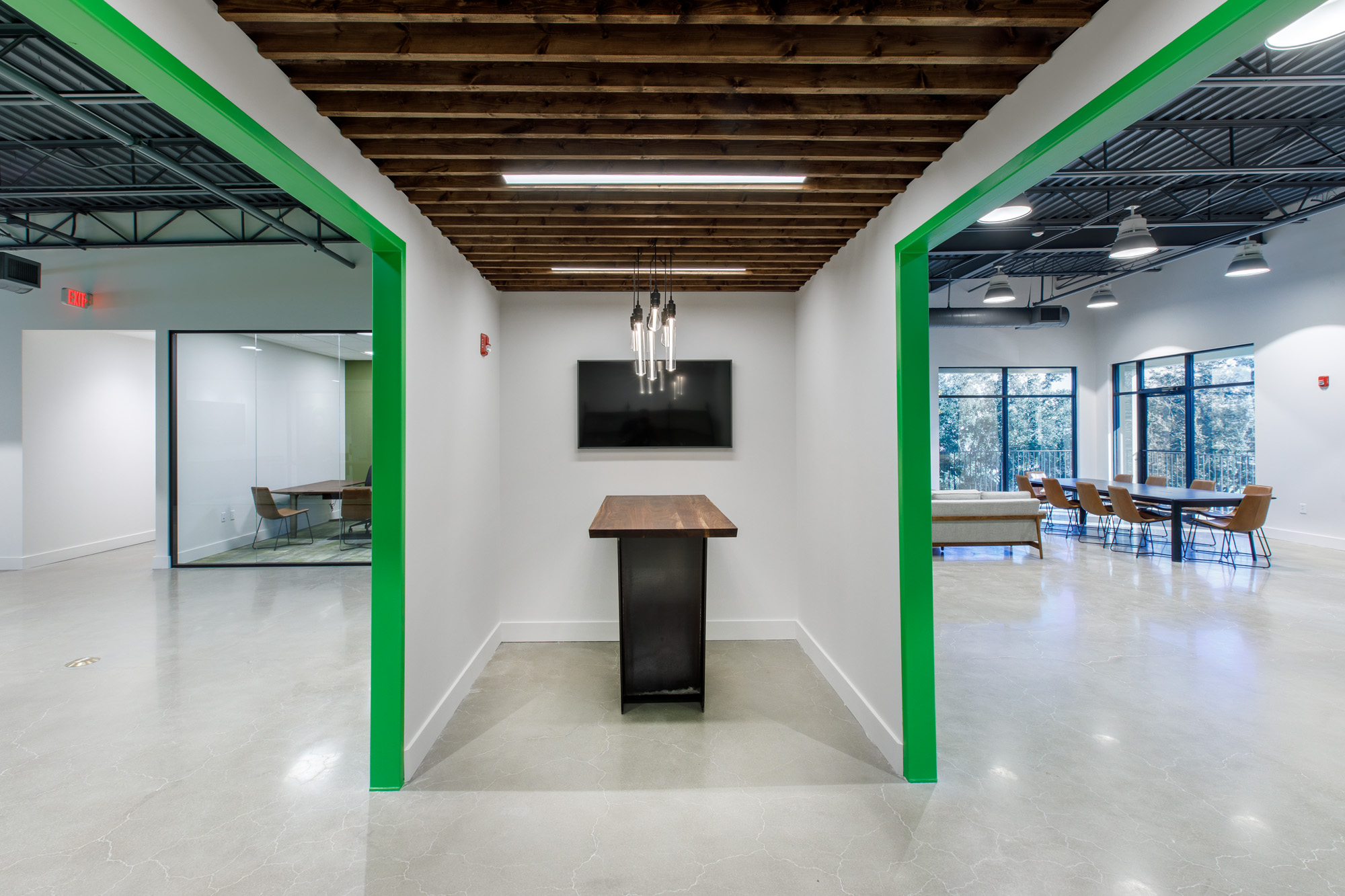 The kitchen space is defined by a large island with corian countertops and waterfall edges. The island has an overhang with stool seating, a built-in compartment for a keg with a tap, a microwave drawer and an under counter freezer. Behind the island, paneled appliances including a refrigerator and dishwater blend seamlessly with the cabinetry. The upper cabinetry features slide-away doors, and all of the hardware are knurled pieces that coordinate with the rest of the office pulls on glass doors. The kitchen space also features a stainless undermount sink with an industrial faucet and drink rinser.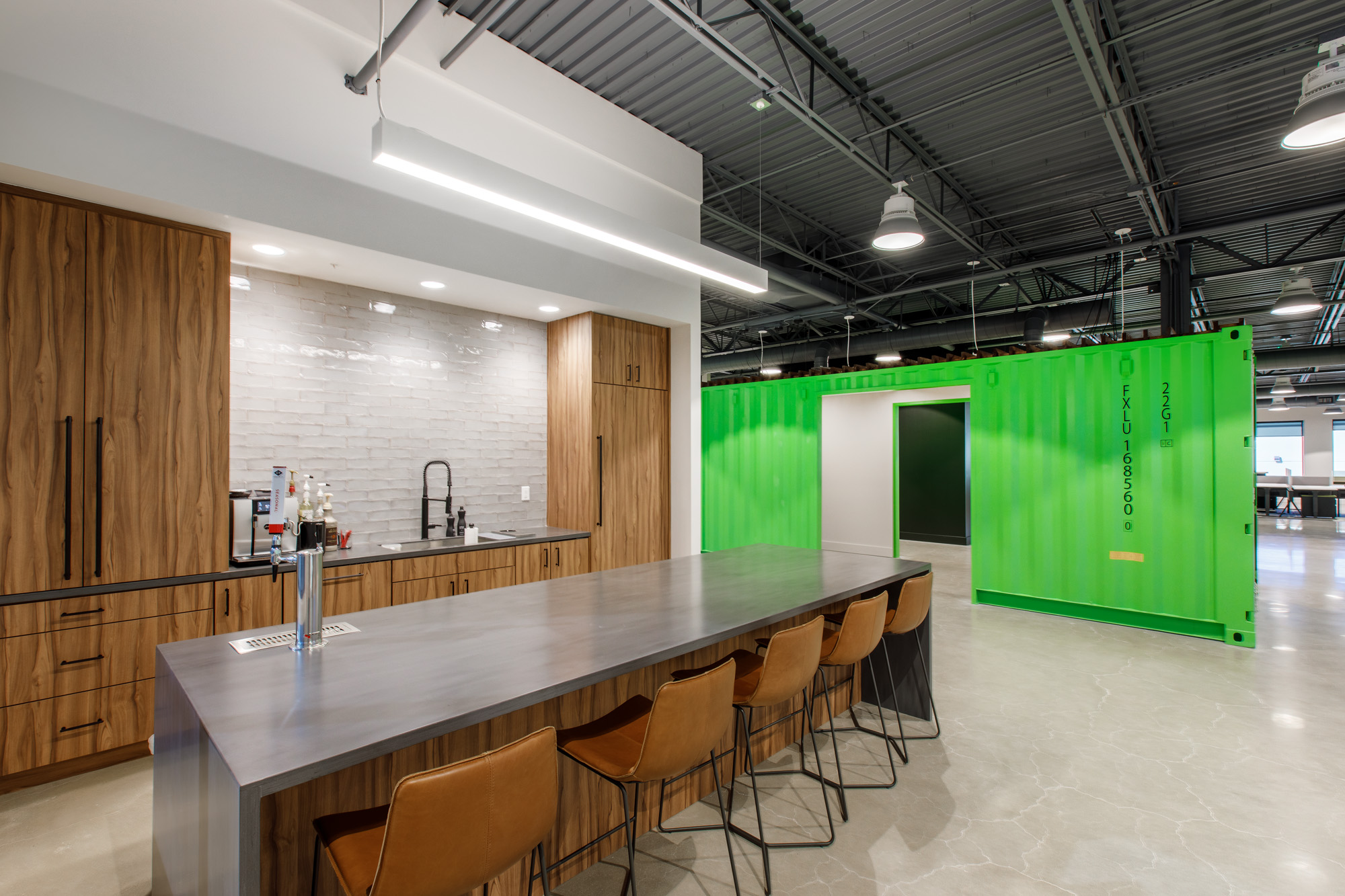 Although a few small challenges arose, the team collaborated to find effective solutions that worked towards the overall client vision.
We are proud to have worked on this project alongside Register Construction, Don Newman, Dixie Signs, and Robert Berganza. Our interior designer worked with manufacturers including CDS, Creative Finishing, OMS, BOS, Formica, Corian, dHive, Milliken, Buster & Punch, Steelcase-Bivi, Haworth, Orangebox, Hem, BLuedot, Uhuru and OFS. The space was completed and GWE staff began moving into their new workspace in October 2020. GWE will now be expanding into space below on the first floor to continue to grow their staff and services.