Polk County Kathleen Fire Rescue Station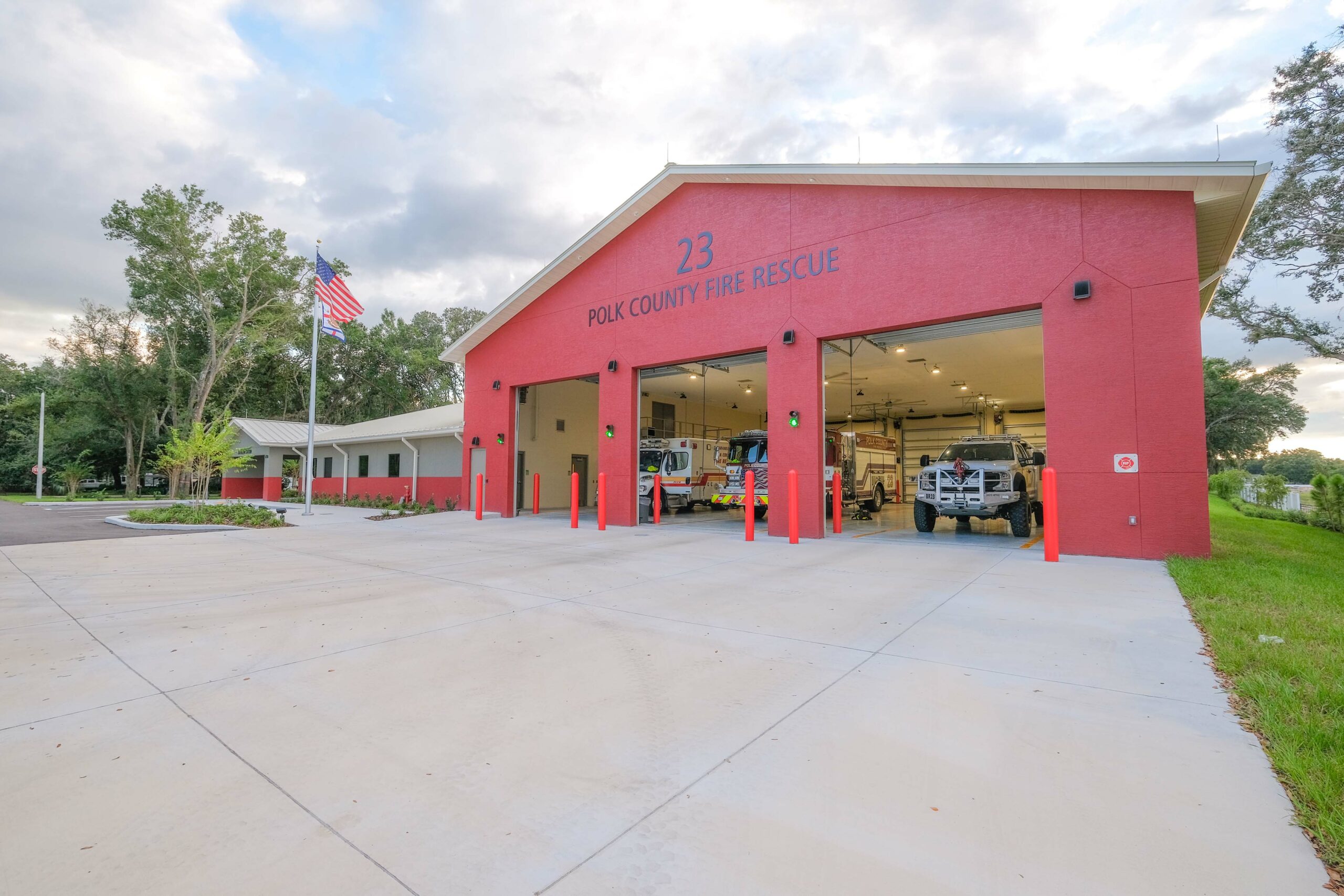 The Lunz Group worked with the Polk County Board of County Commissioners to design a prototype Fire Station that could easily be replicated on multiple sites across Polk County. We then worked with Core Construction Services of Florida, LLC to build the first of those prototypes in Kathleen, FL.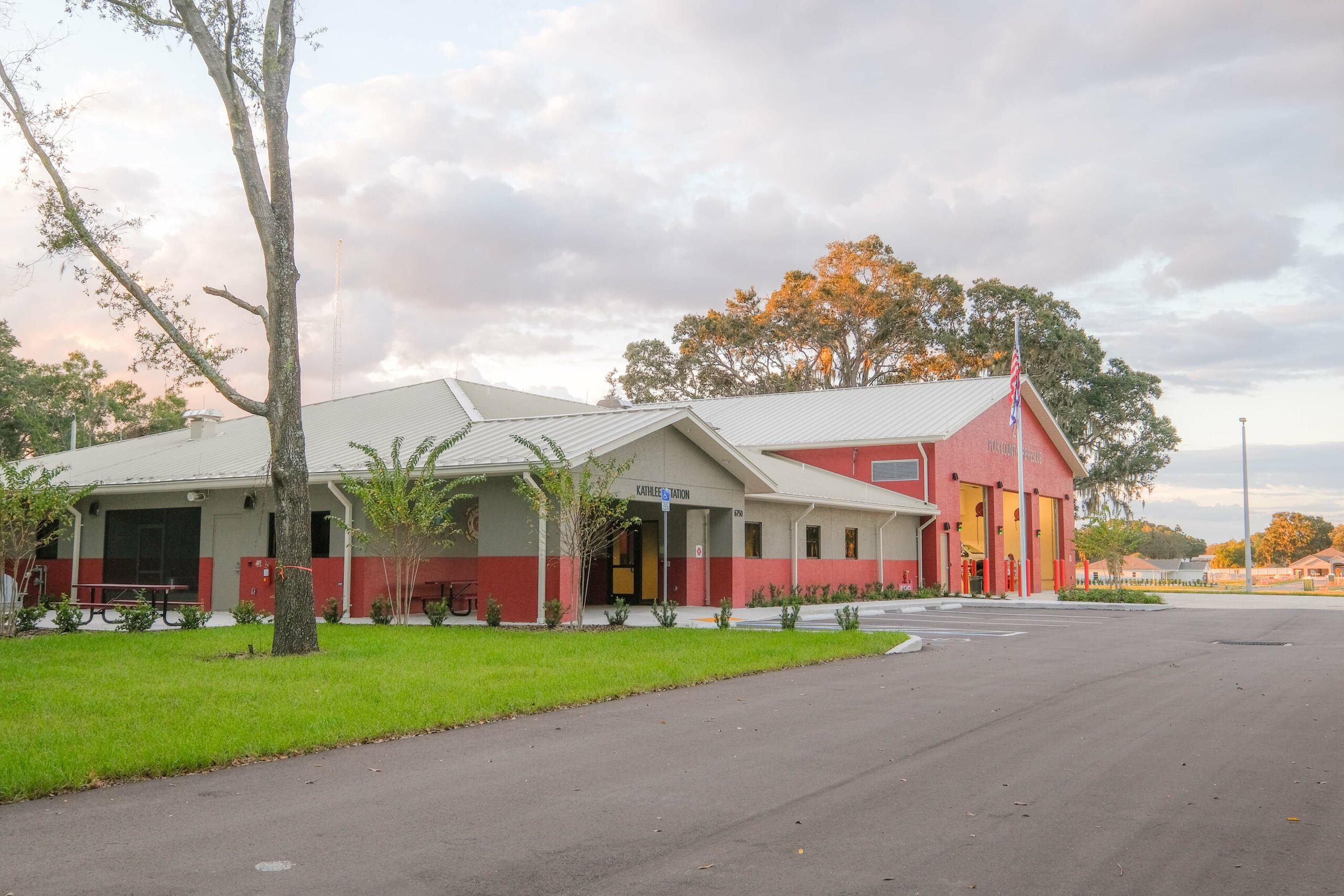 Recently released census population estimates show that the Lakeland-Winter Haven metro area had the second-highest rate of population growth in the U.S. from July 2019 to 2020 at 2.7 percent. With that growth comes the need for services. Additional fire stations offer increased access to emergency responders, reduced response times, and lower insurance rates for residents of the growing County. 
With short term projections suggesting the need to build over a dozen stations in the near future, the Lunz Group helped the Polk County Board of County Commissioners envision a floorplan that could be used at multiple sites across the County with only small tweaks. This prototype approach reduced design fees and demonstrated fiscal responsibility.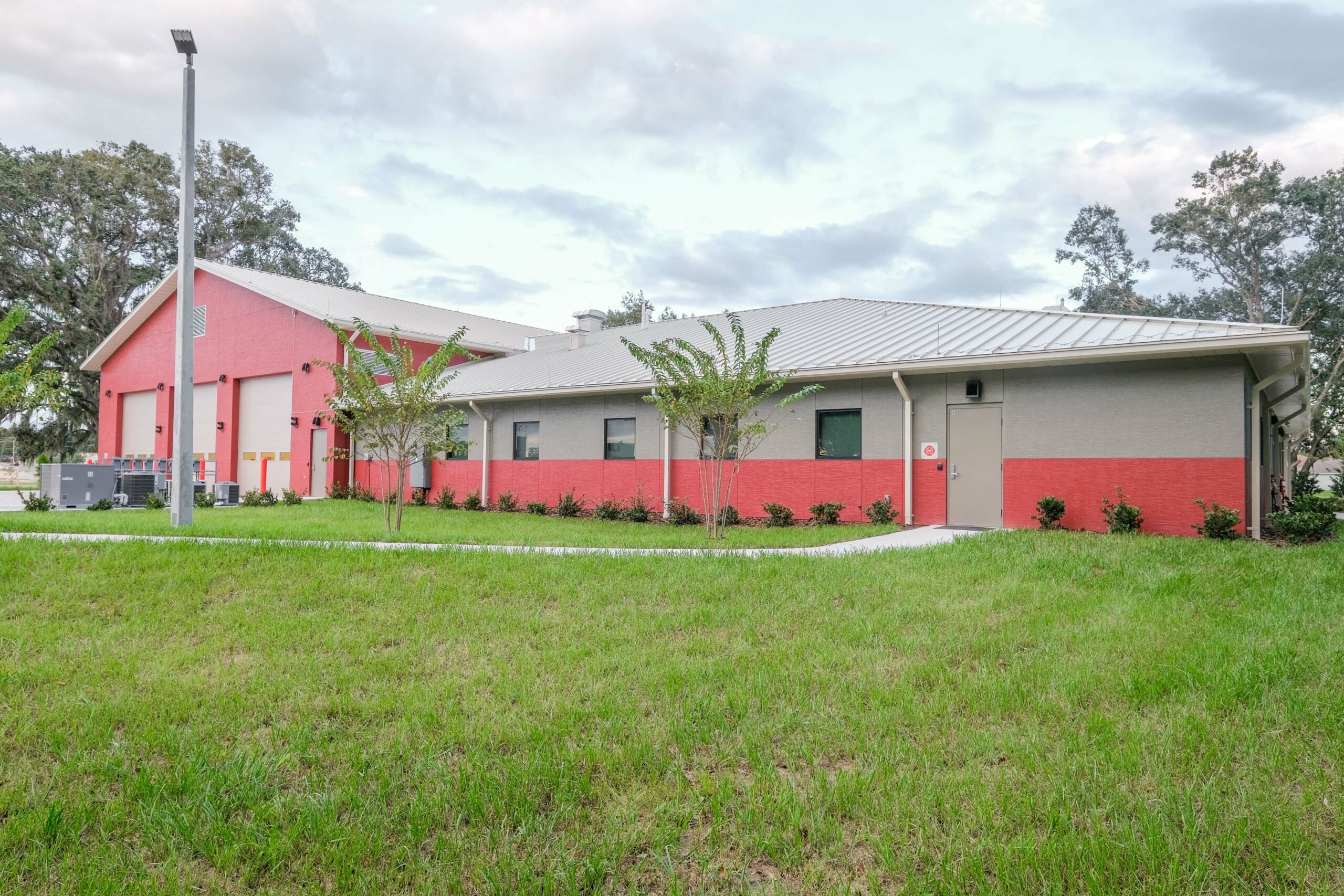 After beginning design work for the new Fire Station in the Spring of 2019, the Polk County Board of County Commissioners approved the designs in the summer of 2020 and construction was completed in the summer of 2021. 
The building itself is considered a 50-year facility with a metal roof, a large apparatus bay, and all LED-lighting. Clearly demarcated zones separate 'hot' carcinogen areas from decontamination zones and firefighter residential quarters. Exterior aesthetics include intentional touches such as hip roofs with gables and a stucco finish that will help the station blend in better near residential neighborhoods.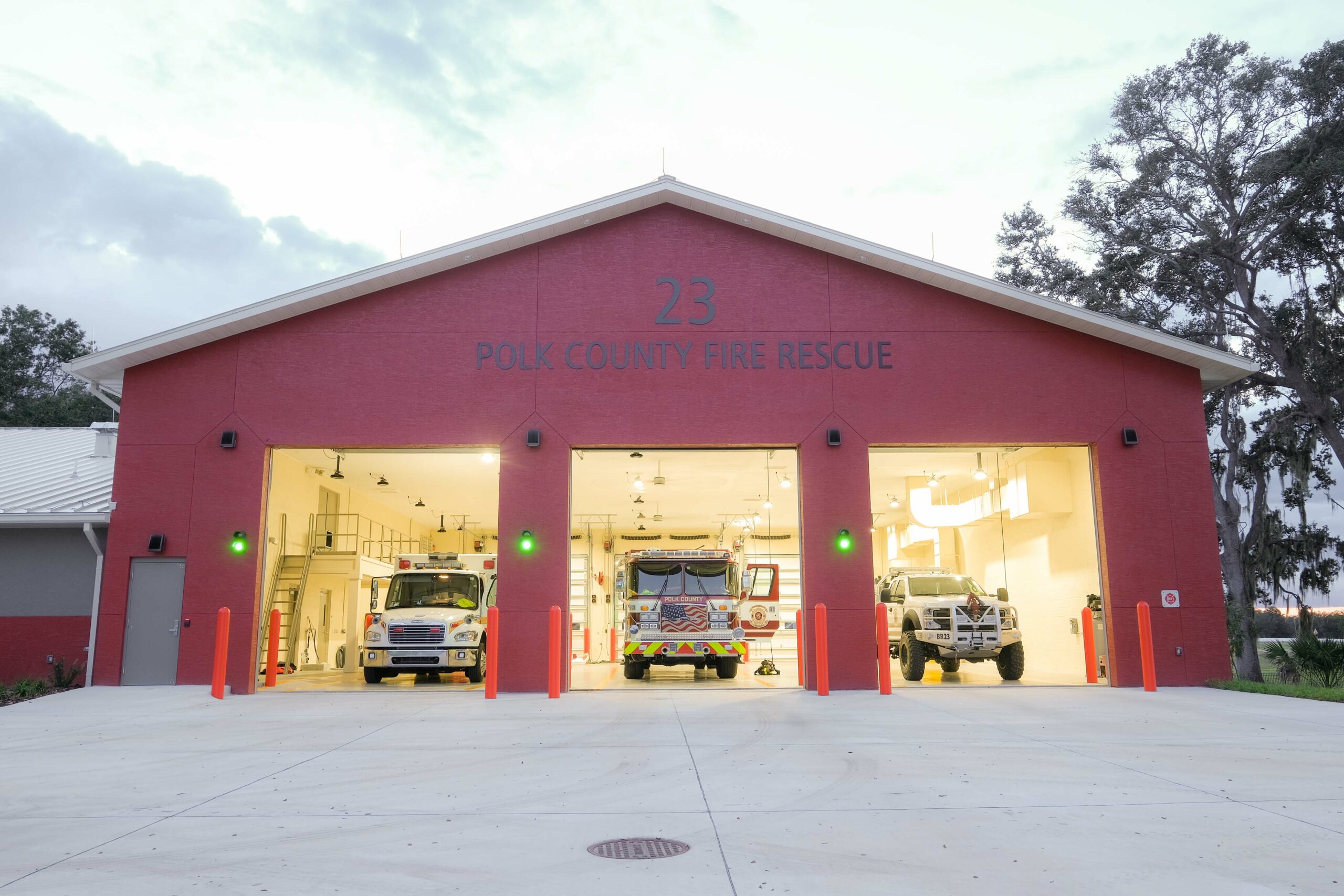 Inside the building, stress reduction for our emergency responders is a top consideration. The residential area features a large day room with polished concrete floors for ease of maintenance, all gas appliances, a separate dining area, and can sleep up to ten. The fire alarm system has been updated to a 'ramping' alarm to reduce the shock of a sudden siren.
The station also features community spaces, including a training room that seats 30-40 and a lobby left unlocked as a safe haven for infant drop-offs.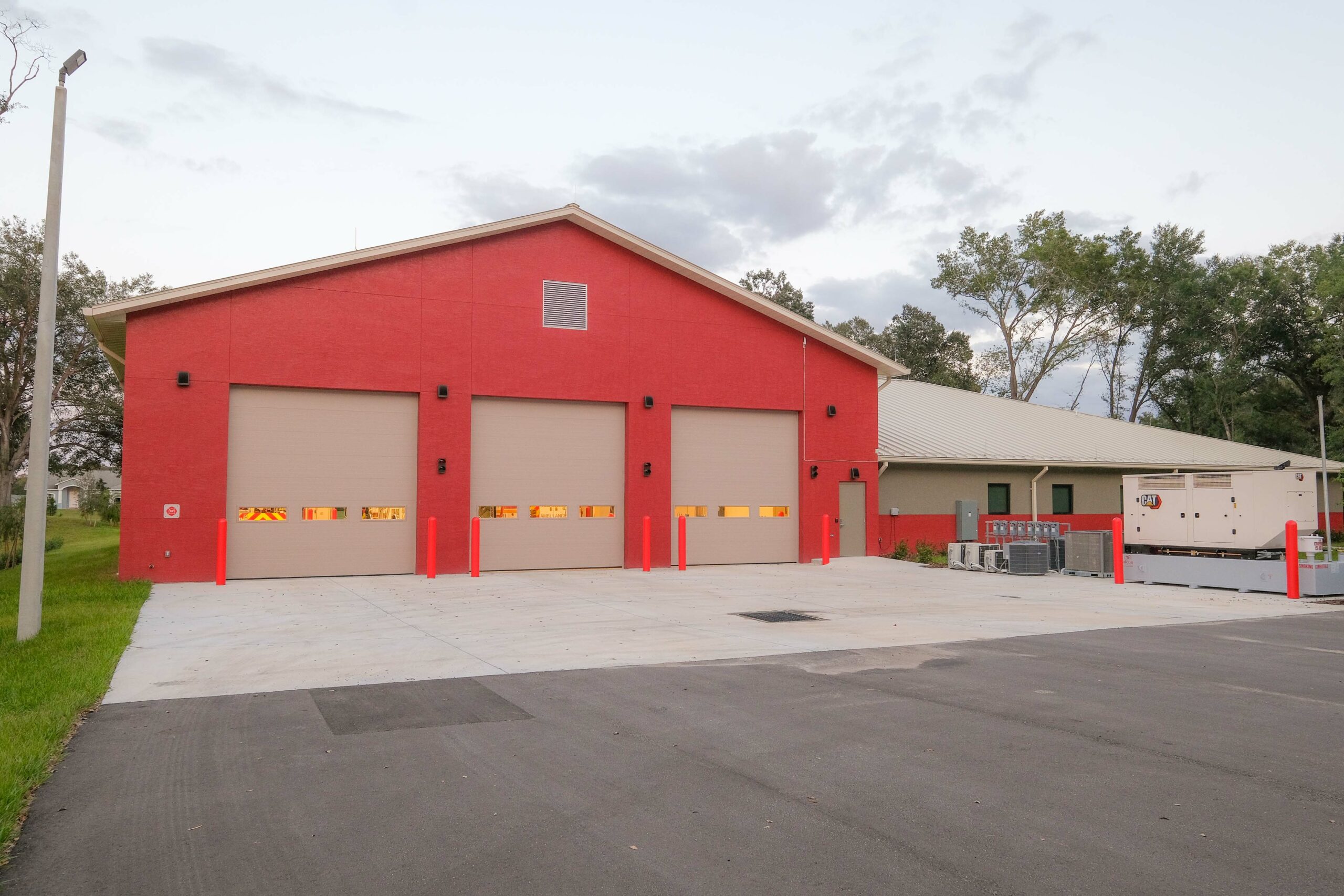 The Lunz team worked closely throughout the design process with consultants including OCI Consulting Engineers (MEP/FP Engineering), Fullone Structural Group (Structural Engineering), Chastain-Skillman (Civil Engineering) and Dirt (Landscape Architecture). Our team also worked closely with the contractor, Core Construction Services of Florida, LLC, to stay on time and budget to meet the needs of the residents of Polk County, FL.