Florida Cancer Specialists: Trinity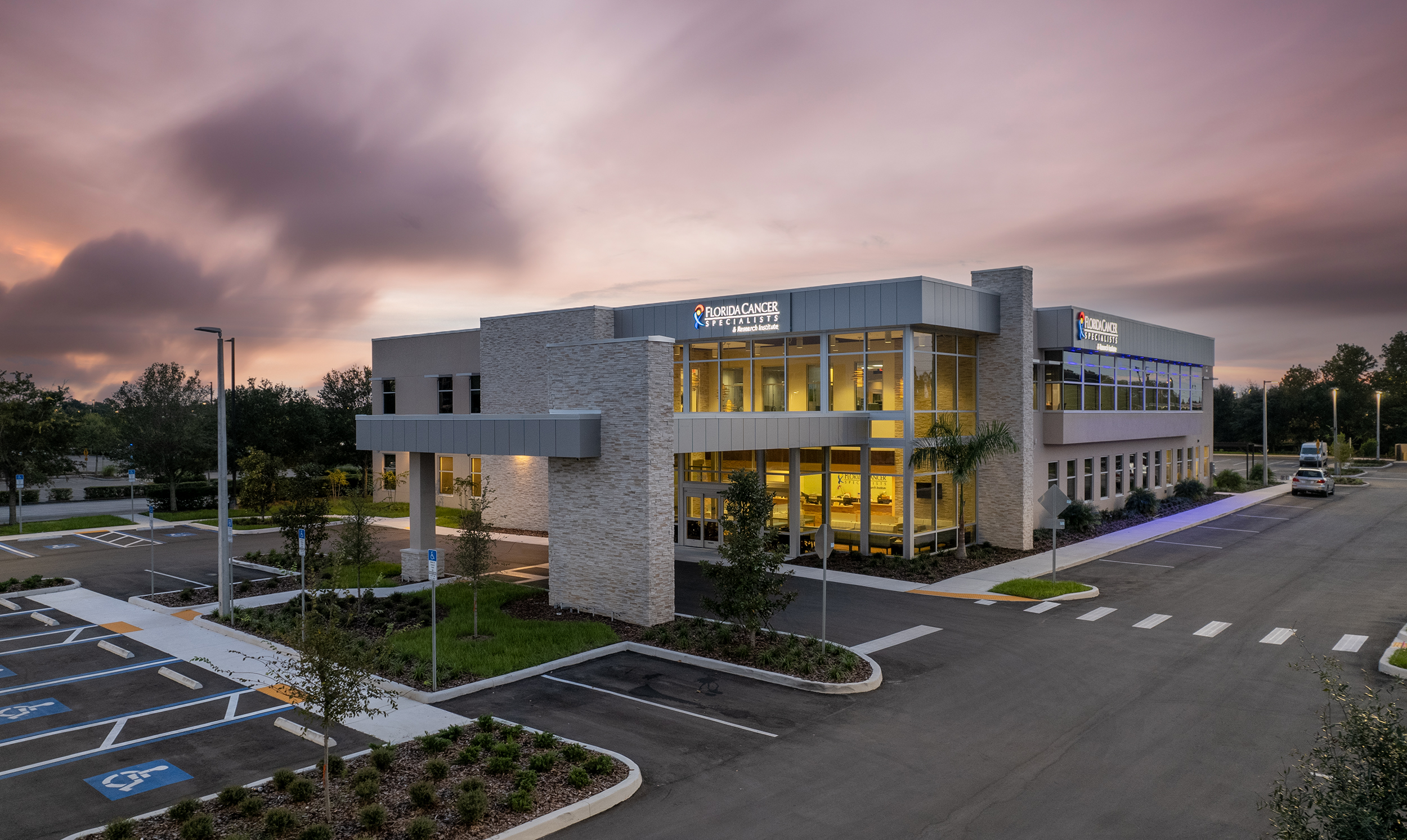 The Lunz Group worked with Florida Cancer Specialists and Onicx Construction to design a state of the art, spa-inspired Cancer Center in Trinity, FL in order to expand the range of world-class cancer treatments and services available for residents of Pasco County. 
​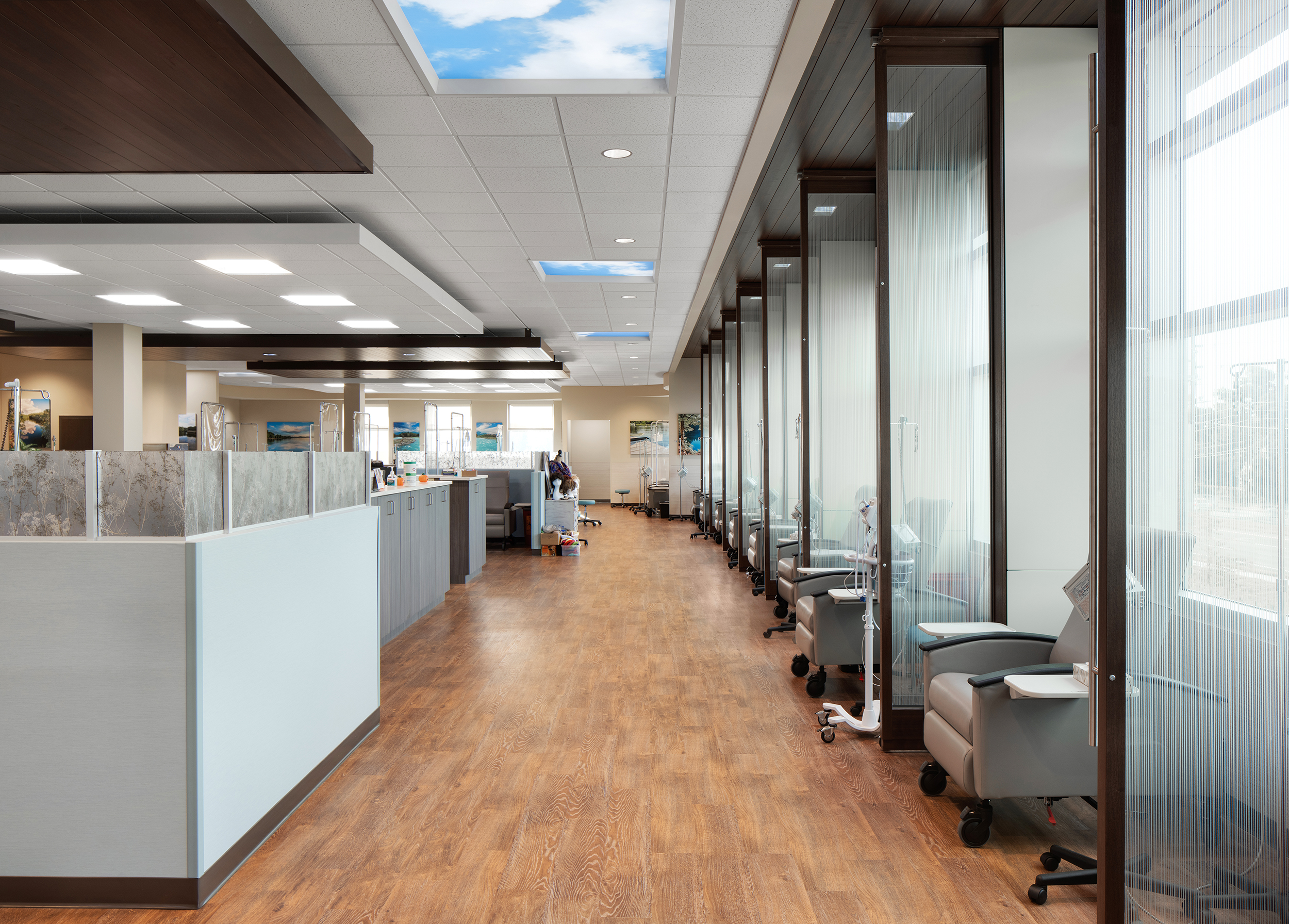 For many patients and their families, a cancer diagnosis and the associated care can be overwhelming. That's why leadership at Onicx challenged The Lunz Group to aesthetically enhance the patient experience at this new center, including an elevated budget for interior design and buildout.
Florida Cancer Specialists has built a national reputation for excellence that is reflected in exceptional and compassionate patient care, driven by innovative clinical research, cutting-edge technologies and advanced treatments. This new facility is one of their largest, nearly doubling the number of chemotherapy patients they can serve while enhancing the environment in which treatment occurs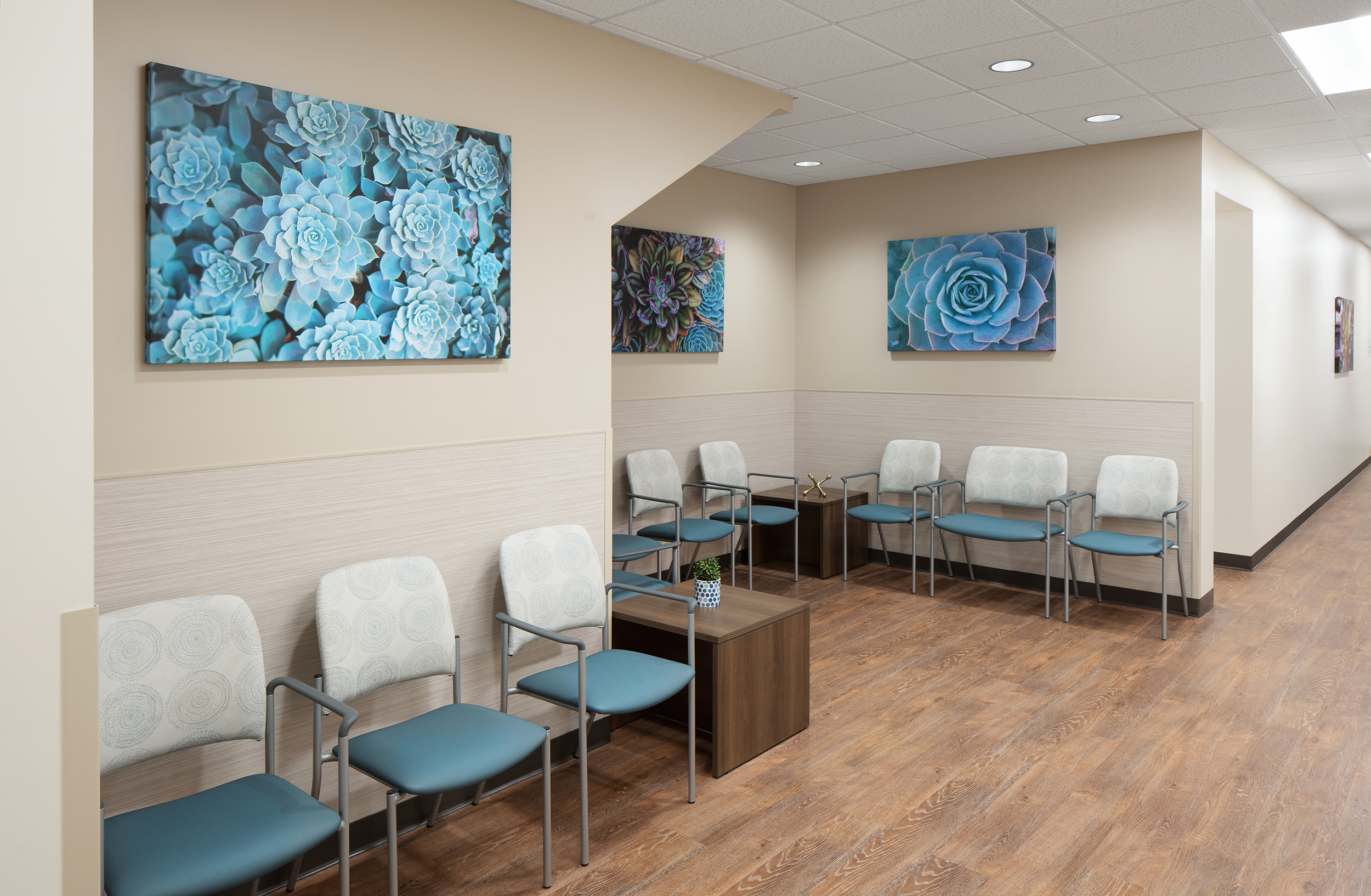 FCS partnered with Onicx Construction and the Lunz Group to develop the 37,438 sq. ft. facility, which includes a medical linear accelerator (LINAC) and a CT/ HDR on the first floor, as well as a next-generation PET/CT imager on the second floor. Along with this technology, the center includes 27 exam rooms and 52 chairs for chemotherapy and other infusions. Patients also have access to participate in cutting-edge clinical trial research.
The design of the new facility sought to bring the calming effects of the outdoors into reception and treatment areas. Stacked stone extends from the exterior into the two story open lobby, where you are greeted by wood panel ceiling design and a water feature as you walk toward the reception desk.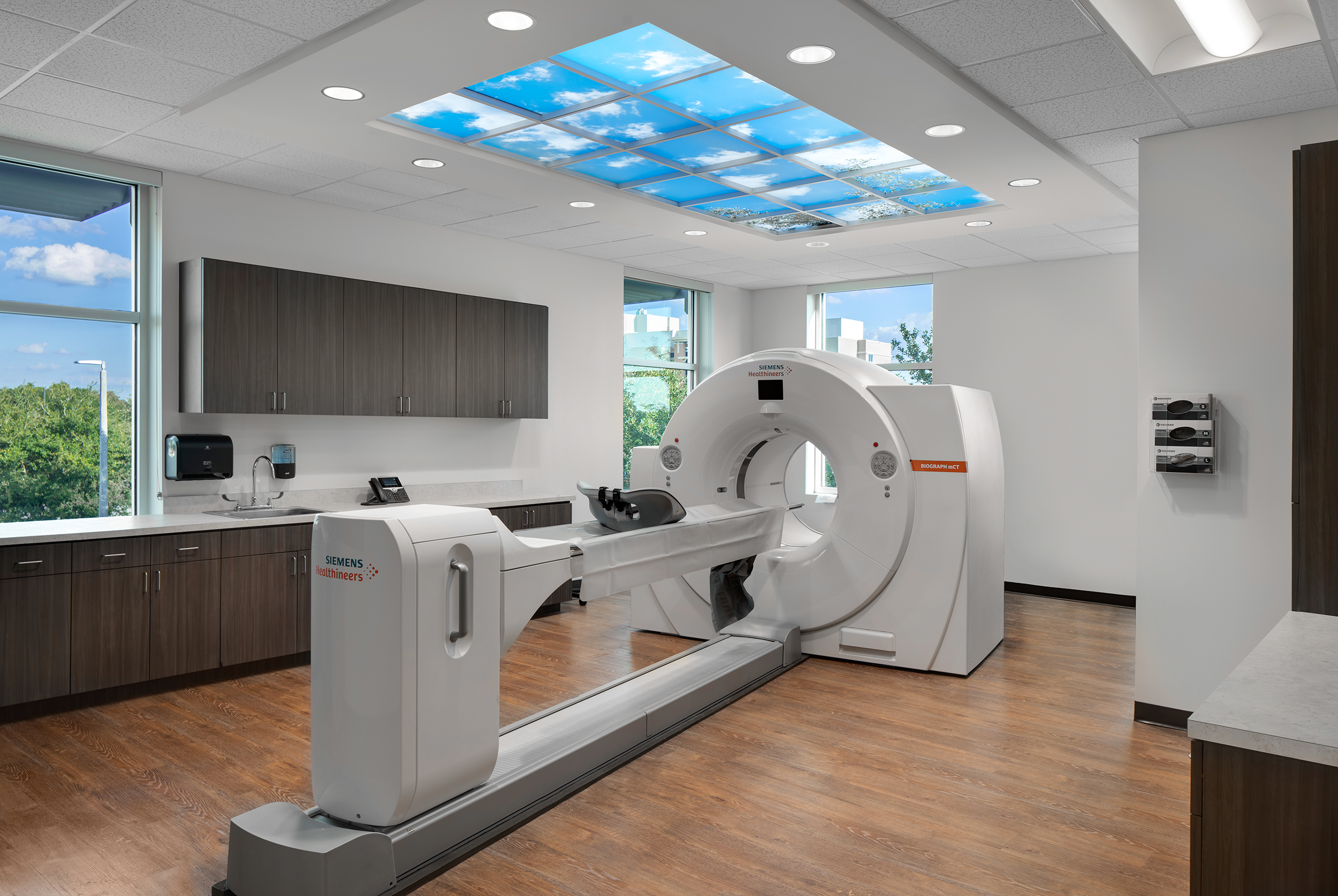 Infusion areas were highly customized to add to an organic feeling by incorporating curved ceilings, wood cabinetry, large windows for natural light, and freeform resin panels infused with baby's breath. Even more breathtaking are the Sky Factory lenses designed into the ceiling that mimic the sky to create an even more calming, relaxed atmosphere. 
Patient experience was at the heart of each of these design decisions. Studies suggest that a positive patient attitude has a direct correlation to success in treatment. By creating an intentional atmosphere of aesthetic beauty and natural calm, FCS helps patients experience positive, hopeful treatment sessions.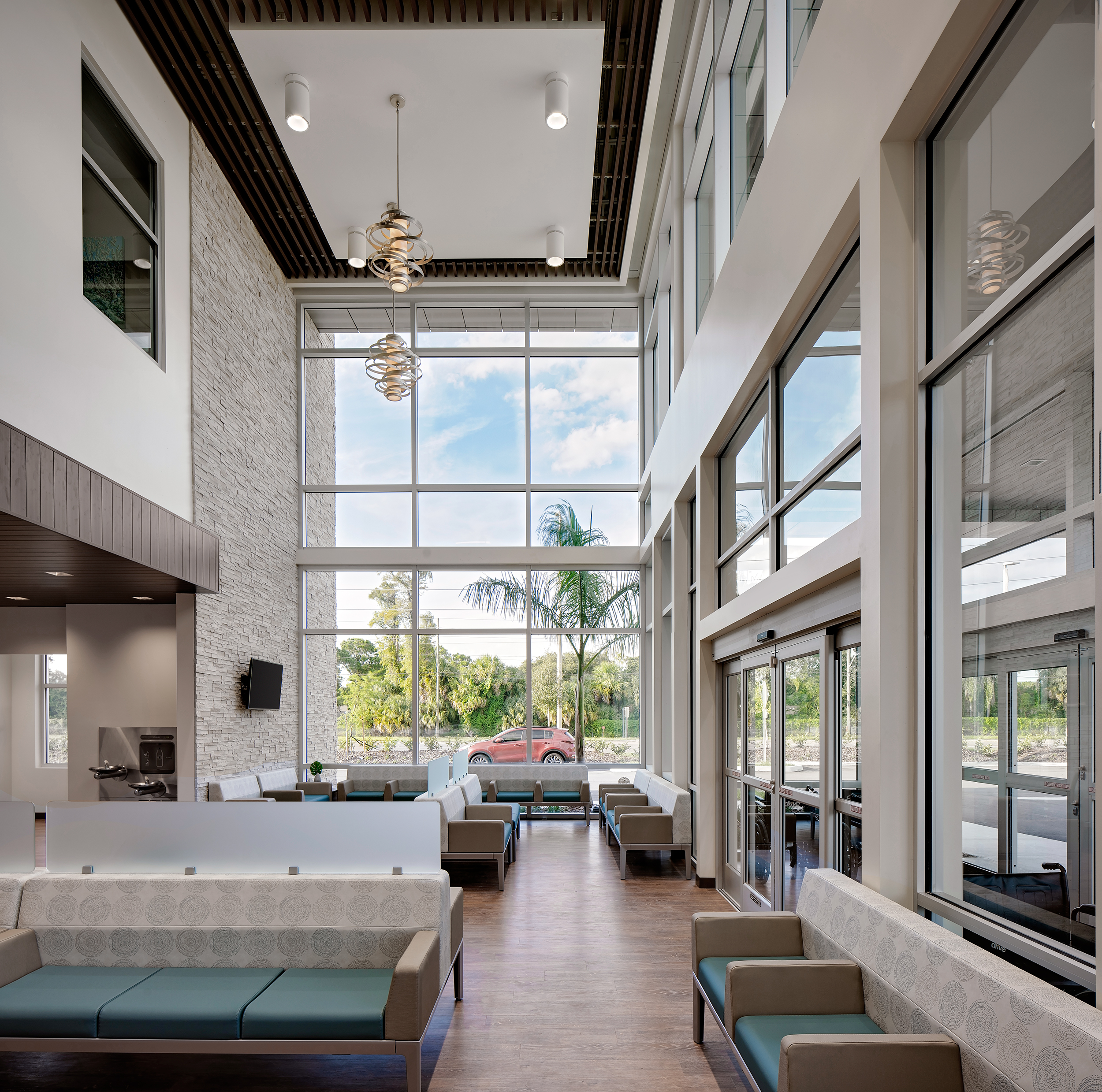 The Lunz team worked closely throughout the design process with consultants including Chehayeb & Associates (Electrical), Therapy Physics (Physician Consultant), GLT Furniture (Office Furniture), DIRTT Environmental Solutions Ltd (Landscape), TRC (Structural Engineering), Kimley Horn (Civil Engineering), and Lewis Stepanek & Associates (Mechanical / Plumbing / Fire Protection).
After beginning design work for the new cancer center in the summer of 2019, Florida Cancer Specialists approved the designs in the fall of 2020 and construction was completed in the fall of 2021.
Our new location will further enhance collaboration among our skilled and compassionate oncologists, advanced practice providers and support staff so that residents in Pasco County have access to all the latest advancements in technology and science.